We're following all official guidelines to keep ourselves healthy on the job, and as a result, shipping may be delayed.
You will receive an email from our web orders team confirming that your order has been processed.
We thank you for your support and your patience at this challenging time.
Ten Little Fingers and Ten Little Toes (Hardcover)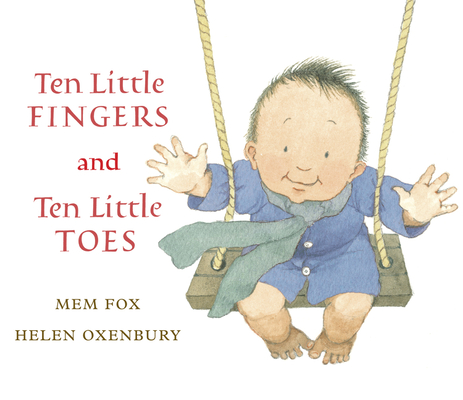 Winter 2009 Kids' List
---
"The winning combination of Mem Fox's lilting text and Helen Oxenbury's delightful illustrations make this book a perfect baby gift. What a lovely book to read with your baby in your lap!"
— Linda Ronberg, Linden Tree, Los Altos, CA
Description
---
As everyone knows, nothing is sweeter than tiny baby fingers and chubby baby toes. . . . And here, from two of the most gifted picture-book creators of our time, is a celebration of baby fingers, baby toes, and the joy they—and the babies they belong to—bring to everyone, everywhere, all over the world!
This is a gorgeously simple picture book for very young children, and once you finish the rhythmic, rhyming text, all you'll want to do is go back to the beginning . . . and read it again! The luminous watercolor illustrations of these roly-poly little ones from a variety of backgrounds are adorable, quirky, and true to life, right down to the wrinkles, dimples, and pudges in their completely squishable arms, legs, and tummies.
About the Author
---
MEM FOX is the author of many acclaimed books, including Ten Little Fingers and Ten Little Toes, Possum Magic, Koala Lou, Time for Bed, and, for adults, Reading Magic: Why Reading Aloud to Our Children Will Change Their Lives Forever. She lives in Adelaide, Australia.
HELEN OXENBURY is the world-class illustrator of dozens of beloved picture books, including Michael Rosen's We're Going on a Bear Hunt, Phyllis Root's Big Momma Makes the World, which won the Boston Globe-Horn Book Picture Book Award,and her own Tom and Pippo series. She lives in London, England.
Praise For…
---
"This gently lilting read-aloud is just right for bedtime, or anytime your child could use a little extra comfort. You'll go ga-ga yourself over the adorable watercolors of babies around the world." --Parenting , September 2008
"Put two titans of kids' books together for the first time, and what do you get (besides the urge to shout, "What took you so long?")? The answer: an instant classic . . . there's real magic at work here."--Publishers Weekly, starred review
"Ten Little Fingers and Ten Little Toes gently presents--but never preaches--a satisfying lesson about humanity and international harmony."--BookPage
"A standout for its beautiful simplicity, this picture-book collaboration between Fox and Oxenbury aims a message of diversity and tolerance at very young children. . . . Clusters of adorable mulitcultural babies from around the world toddle across the pages until just one child receives three kisses on the nose from her loving mom, a sweet gesture that parents will want to act out with their own children. A gentle, joyous offering."--Booklist, starred review
"Fox's lilting verse just has to be read aloud, and preschoolers will quickly pick up on and join in on the anticipated refrain. Oxenbury's spacious illustrations, featuring her irresistible round-headed tots (and, of course, plenty of chubby baby digits), emphasize the babies' differences and will engage even the youngest listeners in the on-page action."--The Horn Book Magazine, starred review
"In 'Ten Little Fingers and Ten Little Toes,' two beloved picture-book creators — the storyteller Mem Fox and the artist Helen Oxenbury — merge their talents in a winsome look at babies around the world."—The New York Times Book Review
"A witty and winsome look at babies around the world that has a toe-tapping refrain: the words sound easy and familiar, as though they have been handed down to children forever. And the story ends with a pitch-perfect moment: one little baby who is 'mine, all mine.' "--The New York Times Book Review, Notable Children's Books of 2008
"'Light as air and sweet as honey' might be a way to describe this delectable confection about babies, here, there and everywhere."--The Globe and Mail
Wichita Eagle, Great Gift Recommendations 2008
"Blonde top-knots, springy black curls, haystack red straw and sleek black hair surround smiling, frowning, sneezing or contemplative baby faces. Anyone who has ever tweaked a little piggy will quickly start chanting the infectious refrain from this 'digital' romp." --Washington Post Book World, September 7, 2008
— Washington Post Book World