We're following all official guidelines to keep ourselves healthy on the job, and as a result, shipping may be delayed.
You will receive an email from our web orders team confirming that your order has been processed.
We thank you for your support and your patience at this challenging time.
Sex and Lies: True Stories of Women's Intimate Lives in the Arab World (Paperback)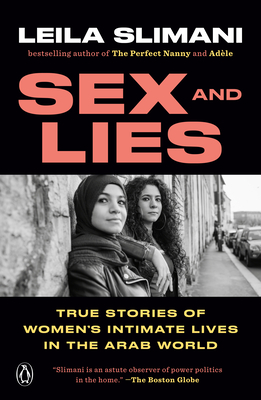 $17.00
Coming Soon—Pre-Order Now
Description
---
"As revealing as Lisa Taddeo's bestseller Three Women, but it has a more urgent political mission." --Evening Standard

A fearless exposé of the secrets and lies of women's intimate lives, by the bestselling author of The Perfect Nanny and Adèle

"All those in positions of authority--politicians, parents, teachers--maintain the same line: 'Do what you like, but do it in private.' "

Leila Slimani was in her native Morocco promoting her novel Adèle, about a woman addicted to sex, when she began meeting women who confided the dark secrets of their sexual lives. In Morocco, adultery, abortion, homosexuality, prostitution, and sex outside of marriage are all punishable by law, and women have only two choices: They can be wives or virgins. Sex and Lies combines vivid, often harrowing testimonies with Slimani's passionate and intelligent commentary to make a galvanizing case for a sexual revolution in the Arab world.
About the Author
---
Leila Slimani is the bestselling author of The Perfect Nanny, one of The New York Times Book Review's 10 Best Books of the Year, and Adèle, for which she won the La Mamounia Prize. A journalist and frequent commentator on women's and human rights, she spearheaded a campaign--for which she won the Simone de Beauvoir Prize for women's freedom--to help Moroccan women speak out, as self-declared outlaws, against their country's "unfair and obsolete laws." She is French president Emmanuel Macron's personal representative for the promotion of the French language and culture and was ranked #2 on Vanity Fair France's annual list of The Fifty Most Influential French People in the World. Born in Rabat, Morocco, in 1981, she now lives in Paris with her French husband and their two young children.
Praise For…
---
"Vivid, at times unbearable testimonies . . . In an act of rare humility and generosity, Slimani offers [these women] what they've been deprived of: a space to tell their stories, to exist." —San Francisco Chronicle

"Potent . . . An ensemble portrait of women drawn together through the force of pressures they all face . . . Slimani keeps a light presence in the interviews, not unlike Svetlana Alexievich's conversations with former Soviet women soldiers." —John Freeman, Lit Hub

"A passionate, candid, and convincing narrative of unmasking and revelation." —Kirkus Reviews

"I salute Leila Slimani for writing this important, honest and brave book. . . . As a writer from a Turkish background, I am moved by Slimani's words. The women she talks to could just as well have been Lebanese, Syrian, Jordanian, Palestinian, Iranian, Turkish." ­—Elif Shafak, New Statesman
 
"Like Adèle did before it, this slim book of impassioned pleas, and of human impulses that resonate, is one step to more women breaking free." —Evening Standard

"Challenge[s] one of the Arab world's great taboos . . . [and] provides a rare, and perhaps unique, look into a patriarchal Arab society laden with hypocrisy." —The Times (U.K.)

"Slimani deserves credit for giving a voice to those for whom 'just being myself is activism.' '' —The Spectator

"A gripping portrait of a society riven by inner conflict, poised on a power-keg of desire." —The Sydney Morning Herald

"Sex and Lies does not lack for passion [and] raises legitimate questions." —Financial Times
 
"Well executed: the novelist paints vivid portraits of her interviewees." —Sunday Times (U.K.)
 
"An original book." —Cosmopolitan (U.K.)
 
"Searing . . . Page-turning." —AnOther Magazine

"Fascinating and surprising." —Elle (France)

"A nuanced and pragmatic reflection on the situation of women in Morocco and in the Arab-Muslim world." —L'Express