We're following all official guidelines to keep ourselves healthy on the job, and as a result, shipping may be delayed.
You will receive an email from our web orders team confirming that your order has been processed.
We thank you for your support and your patience at this challenging time.
Silence: A Christian History (Paperback)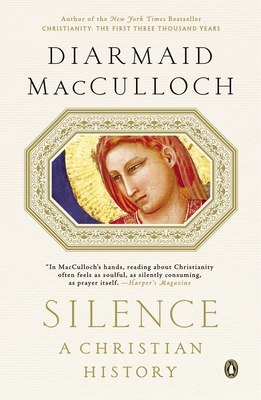 Special Order—Subject to Availability
Description
---
A provocative meditation on the role of silence in Christian tradition by the New York Times bestselling author of Christianity

We live in a world dominated by noise. Religion is, for many, a haven from the clamor of everyday life, allowing us to pause for silent contemplation. But as Diarmaid MacCulloch shows, there are many forms of religious silence, from contemplation and prayer to repression and evasion. In his latest work, MacCulloch considers Jesus's strategic use of silence in his confrontation with Pontius Pilate and traces the impact of the first mystics in Syria on monastic tradition. He discusses the complicated fate of silence in Protestant and evangelical tradition and confronts the more sinister institutional forms of silence. A groundbreaking book by one of our greatest historians, Silence challenges our fundamental views of spirituality and illuminates the deepest mysteries of faith.
About the Author
---
Diarmaid MacCulloch is a fellow of St. Cross College, Oxford, and professor of the history of the church at Oxford University. His books include Suffolk and the Tudors, winner of the Royal Historical Society's Whitfield Prize, and Thomas Cranmer: A Life, which won the Whitbread Biography Prize, the James Tait Black Prize, and the Duff Cooper Prize. A former Anglican deacon, he has presented many highly celebrated documentaries for television and radio, and was knighted in 2012 for his services to scholarship. He lives in Oxford, England.
Praise For…
---
Praise for Silence

"Silence has all the spark of Christianity. . . . In MacCulloch's hands, reading about Christianity often feels as soulful, as silently consuming, as prayer itself."
—Tom Bissell, Harper's Magazine

"Silence is excellent: a beautifully written, factually dense, intellectually sophisticated look at the theological uses and abuses of silence, from the spirituality of quiet to the Catholic Church's horrifying reticence about child abuse and the Holocaust."
—Kathryn Schulz, New York Magazine

"A stimulating and sweeping overview."
—Publishers Weekly (starred review)

"Enjoyable and intelligent . . . MacCulloch is a gifted scholar and his ideas are always worth hearing."
—The Economist

"In the first part of his compelling new book, Diarmaid MacCulloch explores the use of silence in spiritual practice, but it is in the second part that he constructs his main challenge. Here he speaks not of the lovely silence of that which cannot be spoken, but of the ugly silence that cloaks evil. . . . MacCulloch's account is peppered with the kind of delicious asides that make him such a compulsively readable historian."
—The Times, Book of the Week

"Silence is intellectually robust, and without the prevarications and self-qualifications that sometimes stymie academic prose. . . . MacCulloch is by turns precise, poetic and righteously indignant."
—The Guardian

"MacCulloch is a superb raconteur, full of imagination, wit, irony and fun, who entertains, challenges, enlightens and occasionally enrages his readers. But beyond mere storytelling and the skilful display of his strength of learning, he also takes a strong ethical stance in telling the truth and revealing some of the darker sides of Christian history."
—The Times Higher Education

"Unfailingly interesting and readable. . . . MacCulloch the sleuth historian enjoys nothing more than digging beneath this silence to reveal the smothered stories of variously disreputable Christian heroes."
—The Times Literary Supplement

"This is a specialist book for non-specialist readers—by which I mean that it is made highly accessible to anyone seriously interested by excellent and lively writing . . . It is great fun . . . a rich engaging book. Read it."
—The Spectator