We're following all official guidelines to keep ourselves healthy on the job, and as a result, shipping may be delayed.
You will receive an email from our web orders team confirming that your order has been processed.
We thank you for your support and your patience at this challenging time.
Why Priests?: A Failed Tradition (Paperback)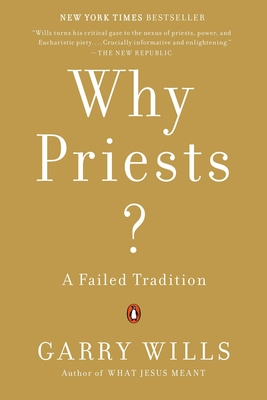 $16.00
Special Order—Subject to Availability
Description
---
New York Times–bestselling author Garry Wills provides a provocative analysis of the theological and historical basis for the priesthood

In a riveting and provocative tour de force from the author of What Jesus Meant, Pulitzer Prize winner Garry Wills poses the challenging question: Why did the priesthood develop in a religion that began without it and, indeed, was opposed to it? Why Priests? argues brilliantly and persuasively for a radical re-envisioning of the role of the church as the Body of Christ and for a new and better understanding of the very basis of  Christian belief. As Wills emphasizes, the stakes for the writer and the church are high, for without the priesthood there would be no belief in an apostolic succession, the real presence in the Eucharist, the sacrificial interpretation of the Mass, and the ransom theory of redemption. This superb study of the origins of the priesthood stands as Wills's towering achievement and will be of interest to all inquiring minds, believers and non-believers alike.
About the Author
---
Garry Wills has written many acclaimed and bestselling works, including What Jesus Meant, Papal Sin, and Why I Am a Catholic. His books have received many awards, including the Pulitzer Prize. A professor of history emeritus at Northwestern University, Wills is a frequent contributor to The New York Review of Books and other publications.
Praise For…
---
A NEW YORK TIMES BESTSELLER

Praise for Why Priests? by Garry Wills:
 
"Wills draws on his expertise in classical languages and his wide reading in ecclesiastical history to argue that the Catholic/Orthodox priesthood has been one long mistake."
—The Washington Post

"Wills sets out to persuade his fellow-Catholics that the priesthood is both unnecessary and un-Christian. . . . Wills is not attempting to break with the Church or to dismantle it. Rather, he wants to assure the faithful that they can get by without priests. 'If we need fellowship in belief,' he writes, 'we have each other.'"
—The New Yorker

"How. . .did priests become dominant and then essential in Catholic Christianity? And why, Wills asks, in this provocative [and] historically rich . . . book, does the Vatican continue to sustain such falsehoods? . . . Wills's demolition of the many myths surrounding the origins of priestly status and function is in itself crucially informative and enlightening."
—The New Republic 

"Pulitzer Prize winner Wills, a venerable voice on church history, thought and practice, provides a stunning critique of the Roman Catholic priesthood."
—Kirkus Reviews (starred)

"Using his linguistic skills and his impressive command of both secondary literature and patristic sources, Wills raises doubts aplenty about 'the Melchizedek myth,' and the priestly claims for Jesus in the 'idiosyncratic' Epistle to the Hebrews … His final chapter is a model of elegant simplicity, a contrast (intended or not) to the flummery often associated with his own church … 'There is one God, and Jesus is one of his prophets,' Wills concludes, 'and I am one of his millions of followers.' For those millions, scattered across time and space, that's an affirmation worthy of celebration."
—The New York Times Book Review

"Do we really need Catholic Priests? Wills, Pulitzer Prize winner and author of Why I Am a Catholic, dares to pose this controversial question[.] . . . One cannot help but be impressed with this brilliant work written by a scholar whose love for the Church compels him to make it better."
—Publishers Weekly

"Clearly a thought-provoker destined to inspire debate."
—Library Journal

"Wills's . . . position is . . . original and insightful . . . [and his] task is a worthy one, namely to bring the institution of the priesthood under the gaze of historical and theological scrutiny. . . . Through his erudite scholarship and his compelling argumentation Wills has made an important contribution to this field of study and, in the process, has written a book that is thoroughly absorbing and engaging."
—Irish Times
 
"[Wills] combin[es] historical and literary analysis with journalistic observations on the present Catholic church. . . . Why Priests? should be required of all seminarians."
—National Catholic Reporter