The Idea of America: Reflections on the Birth of the United States (Paperback)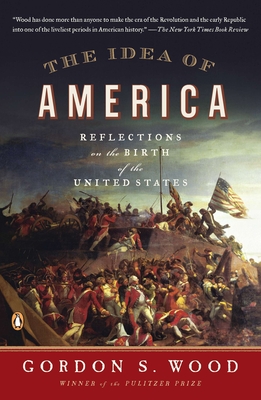 Description
---
The preeminent historian of the Founding Era reflects on the birth of American nationhood and explains why the American Revolution remains so essential.
For Pulitzer Prize-winning historian Gordon S. Wood, the American Revolution is the most important event in our history, bar none. Since American identity is so fluid, we have had to continually return to our nation's founding to understand who we are. In a series of illuminating essays, he explores the ideological origins of the Revolution--from Ancient Rome to the European Enlightenment--and the founders' attempts to forge a democracy. He reflects on the origins of American exceptionalism, the radicalism and failed hopes of the founding generation, and the "terrifying gap" between us and the men who created the democratic state we take for granted. This is a profoundly revealing look at the event that forged the United States and its enduring power to define us.
About the Author
---
Gordon S. Wood is the Alva O. Way University Professor Emeritus at Brown University. His 1969 book, The Creation of the American Republic, 1776-1787, received the Bancroft and John H. Dunning prizes and was nominated for the National Book Award. His 1992 book, The Radicalism of the American Revolution, won the Pulitzer Prize and the Emerson Prize. His 2009 book, Empire of Liberty: A History of the Early Republic, 1789-1815, won the New-York Historical Society Prize in American History. In 2011 Wood was awarded a National Humanities Medal by President Obama. Wood contributes regularly to the New Republic and the New York Review of Books.
Praise For…
---
"Gordon S. Wood is more than an American historian. He is almost an American institution. Of all the many teachers and writers of history in this Republic, few are held in such high esteem…The strength of Wood's scholarship derives from qualities of caution, balance and restraint that are uniquely his own."
-David Hackett Fischer, New York Times Book Review

"Mr. Wood is our premier student of the Founding Era. He has been writing history for about a half-century, roughly a fifth of the days since the origin of the republic. He has scrupulously avoided appropriating his subject for modern-day political purposes and instead tried to understand it on its own terms and as a whole. Historians will of course bring to their study certain questions and concerns of their own time—no one can or should avoid this—but the greatest historians are those, like Mr. Wood, who do not make our criteria of importance the main theme. …It is Mr. Wood's most 'personal' work, providing us, along with much fine history, glimpses into the thinker and the man."
-The Wall Street Journal

"Exceptional…This is a remarkable study of the key chapter of American history and its ongoing influence on American character."
-Publishers Weekly

"Wood…has long been recognized as one of the preeminent historians of the era of the American Revolution. In this series of cogent, beautifully written essays, Wood repeats some of his familiar themes, but they are well worth revisiting."
-Booklist

"[The Idea of America] represent[s] the incredible range of this eminent scholar's contributions to the historiography of the Revolutionary era… Intellectually expansive and elegantly woven, Wood's writings are the closest thing we have to an elegant mediation between today's readers and the founding generation. Required reading for Revolutionary War enthusiasts on all levels."
-Library Journal

"A Pulitzer and Bancroft Prize-winning historian offers deeply contemplative essays from a career devoted to studying the Revolutionary Era. … It's difficult to conjure another writer so at home in the period, so prepared to translate its brilliant strangeness for a modern audience. Sound, agenda-free analysis, gracefully presented."
-Kirkus Reviews

"Nuanced, elegant essays…it's hard to imagine a historian better trained to write on this subject"
-American Heritage

"Wood's lucid writing style and ability to take complex ideas and spell them out for the layman allows him to detail the fascinating story of how the emphasis of historians treating the Revolution has shifted over time."
-The Providence Journal

"His purpose is nothing less than to make sense of the United States and its place in the world...an intellectual autobiography of the most distinguished and influential early American historian of his generation." 
-The Washington Independent Review of Books

"[The Idea of America] give[s] broad insight into some of the most important moments in American history."
-The Daily

"The insightful essays explore the ideological origins of the Revolution and the founders' attempts at forging an American democracy, and they provide food for thought on whether America has become the country our founders hoped it would be."
-Celebrated Living

"Wood, one of our most eminent historians, has devoted his long career to illuminating how American government evolved and how the events of that period continue to define government and politics today-often in reliving the controversies that divided thinkers and politicians then." 
-Louisville Courier-Journal