The Assault on Reason (Paperback)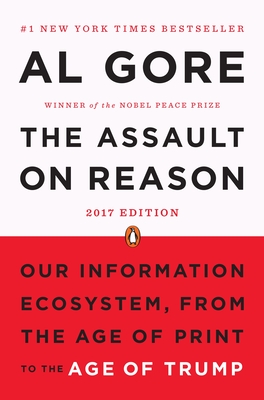 Description
---
Now with a New Preface and Conclusion: -Post-Truth: On Donald Trump and the 2016 Election-
What has happened to our country and how can we fix it?
We are in the midst of a deepening crisis for our democracy. After the strangest election cycle in modern American history it is important that we address the grave threats to our way of life that were glaringly revealed in this campaign. In The Assault on Reason, Nobel Peace Prize winner and former Vice President Al Gore examines how faith in the power of reason--the idea that citizens can govern themselves through rational debate--is in peril. Our democracy depends on a well-informed citizenry and a two-way conversation about ideas, but our public sphere has been degraded by fake news and the politics of fear, partisanship, and blind faith. Now updated to investigate the rise of Trump and post-truth politics, The Assault on Reason is a call to rebuild the vitality of American democracy by restoring the nation's information ecosystem so that we can start making good decisions again.
About the Author
---
Former Vice President Al Gore is the cofounder and chairman of Generation Investment Management. He is a senior partner at Kleiner Perkins Caufield & Byers and a member of Apple Inc.'s board of directors. Gore spends the majority of his time as the chairman of The Climate Reality Project, a nonprofit devoted to solving the climate crisis. Gore was elected to the U.S. House of Representatives in 1976, 1978, 1980, and 1982 and the U.S. Senate in 1984 and 1990. He was inaugurated as the forty-fifth vice president of the United States on January 20, 1993, and served eight years. He is the author of the bestsellers Earth in the Balance, An Inconvenient Truth, The Assault on Reason, Our Choice: A Plan to Solve the Climate Crisis, and, most recently, The Future: Six Drivers of Global Change. He is the subject of an Oscar-winning documentary and is the corecipient, with the Intergovernmental Panel on Climate Change, of the 2007 Nobel Peace Prize for -informing the worldof the dangers posed by climate change.- Former Vice President Gore wasborn on March 31, 1948, and resides in Nashville, Tennessee.
Praise For…
---
"This book shows a fiery, throw-caution-to-the winds Al Gore, who . . . has decided to lay it all on the line with a blistering assessment of the Bush administration and the state of public discourse in America."—Michiko Kakutani, The New York Times

"Gore's faith in human nature is braver and sharper than (the cynics). . . . This book isn't about him; it's about the republic whose freedoms depend on increasing reasoned debate and reducing intimidating noise."—The Boston Globe