The Great Leader and the Fighter Pilot: A True Story about the Birth of Tyranny in North Korea (Paperback)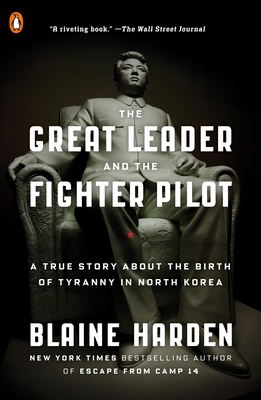 $18.00
Not On Our Shelves—Ships in 1-5 Days
Description
---
Blaine Harden, New York Times-bestselling author of Escape From Camp 14, tells the riveting story of Kim Il Sung's rise to power and the young North Korean fighter pilot who dared to defy him. Harden's latest book, King of Spies, will be available from Viking in Fall 2017.

In the aftermath of World War II, Kim Il Sung plunged North Korea into war against the United States while the youngest fighter pilot in his air force was playing a high-risk game of deception--and escape. As Kim ascended from Soviet puppet to godlike ruler, No Kum Sok pretended to love his Great Leader. That is, until he swiped a Soviet MiG-15 and delivered it to the Americans, not knowing they were offering a $100,000 bounty for the warplane (the equivalent of nearly one million dollars today). The theft--just weeks after the Korean War ended in July 1953--electrified the world and incited Kim's bloody vengeance.
During the Korean War the United States brutally carpet bombed the North, killing hundreds of thousands of civilians and giving the Kim dynasty, as Harden reveals, the fact-based narrative it would use to this day to sell paranoia and hatred of Americans. Drawing on documents from Chinese and Russian archives about the roles of Mao and Stalin in Kim's shadowy rise, as well as from never-before-released U.S. intelligence and interrogation files, Harden gives us a heart-pounding adventure and an entirely new way to understand the world's longest-lasting totalitarian state.
About the Author
---
Blaine Harden is the author of Africa: Dispatches from a Fragile Continent; A River Lost: The Life and Death of the Columbia; and Escape from Camp 14. Africa won a PEN American Center citation for first book of nonfiction. Escape from Camp 14 was both a New York Times and an international bestseller published in twenty-seven languages. Harden lives in Seattle.