We're following all official guidelines to keep ourselves healthy on the job, and as a result, shipping may be delayed.
You will receive an email from our web orders team confirming that your order has been processed.
We thank you for your support and your patience at this challenging time.
In the Shadow of Young Girls in Flower: In Search of Lost Time, Volume 2 (Penguin Classics Deluxe Edition) (Paperback)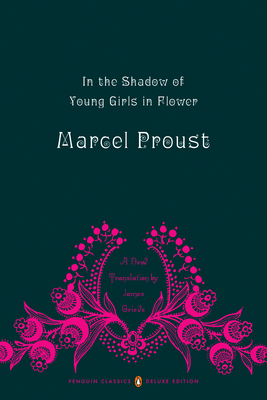 Other Books in Series
This is book number 2 in the In Search of Lost Time series.
Description
---
The second volume of In Search of Lost Time, one of the greatest novels of the twentieth century

James Grieve's acclaimed new translation of In the Shadow of Young Girls in Flower will introduce a new century of American readers to the literary riches of Marcel Proust. As the second volume in the superb edition of In Search of Lost Time—the first completely new translation of Proust's novel since the 1920s—it brings us a more comic and lucid prose than English readers have previously been able to enjoy. In the Shadow of Young Girls in Flower is Proust's spectacular dissection of male and female adolescence, charged with the narrator's memories of Paris and the Normandy seaside. At the heart of the story lie his relationships with his grandmother and with the Swann family.

As a meditation on different forms of love, In the Shadow of Young Girls in Flower has no equal. Here, Proust introduces some of his greatest comic inventions, from the magnificently dull Monsieur de Norpois to the enchanting Robert de Saint-Loup. It is memorable as well for the first appearance of the two figures who for better or worse are to dominate the narrator's life—the Baron de Charlus and the mysterious Albertine. 
About the Author
---
Marcel Proust (1871­–1922) was born in Auteuil, France. In his twenties, following a year in the army, he became a conspicuous society figure, frequenting the most fashionable Paris salons of the day. After 1899, however, his chronic asthma, the death of his parents, and his growing disillusionment with humanity caused him to lead an increasingly retired life. From 1907 on, he rarely emerged from a cork-lined room in his apartment on boulevard Haussmann. There he insulated himself against the distractions of city life and the effects of trees and flowers—though he loved them, they brought on his attacks of asthma. He slept by day and worked by night, writing letters and devoting himself to the completion of In Search of Lost Time. 

James Grieve, a visiting fellow at the Australian National University, has published a translation of Proust's Swann's Way and In the Shadow of Young Girls in Flower, and other novels for young adults.

Christopher Prendergast (series editor) is a professor emeritus of French literature at the University of Cambridge and a Fellow of King's College.