We're following all official guidelines to keep ourselves healthy on the job, and as a result, shipping may be delayed.
You will receive an email from our web orders team confirming that your order has been processed.
We thank you for your support and your patience at this challenging time.
Ghost Wars: The Secret History of the CIA, Afghanistan, and bin Laden, from the Soviet Invas ion to September 10, 2001 (Paperback)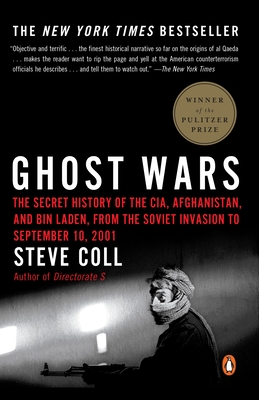 Description
---
Winner of the 2005 Pulitzer Prize

From the award-winning and bestselling author of Directorate S, the explosive first-hand account of America's secret history in Afghanistan

To what extent did America's best intelligence analysts grasp the rising thread of Islamist radicalism? Who tried to stop bin Laden and why did they fail? Comprehensively and for the first time, Pulitzer Prize-winning journalist Steve Coll recounts the history of the covert wars in Afghanistan that fueled Islamic militancy and sowed the seeds of the September 11 attacks. Based on scrupulous research and firsthand accounts by key government, intelligence, and military personnel both foreign and American, Ghost Wars details the secret history of the CIA's role in Afghanistan (including its covert operations against Soviet troops from 1979 to 1989), the rise of the Taliban, the emergence of bin Laden, and the failed efforts by U.S. forces to find and assassinate bin Laden in Afghanistan.
About the Author
---
Steve Coll is the author of the Pulitzer Prize-winning Ghost Wars and the dean of the Graduate School of Journalism at Columbia University, and from 2007 to 2013 was president of the New America Foundation, a public policy institute in Washington, D.C. He is a staff writer for The New Yorker, and previously worked for twenty years at The Washington Post, where he received a Pulitzer Prize for explanatory journalism in 1990. He is the author of seven other books, including On the Grand Trunk Road, The Bin Ladens, Private Empire, and Directorate S.
Praise For…
---
"Certainly the finest historical narrative so far on the origins of al Qaeda in the post-Soviet rubble of Afghanistan . . . Ghost Wars provides fresh details and helps explain the motivations behind many crucial decisions."--The New York Times Book Review

"The CIA itself would be hard put to beat his grasp of global events … Deeply satisfying."--The New York Review of Books
 
"A well written, authoritative, high-altitude drama with few heroes, many villains, bags of cash, and a tragic ending—one that may not have been inevitable."--The Washington Post