So You Want to Be an Inventor? (Paperback)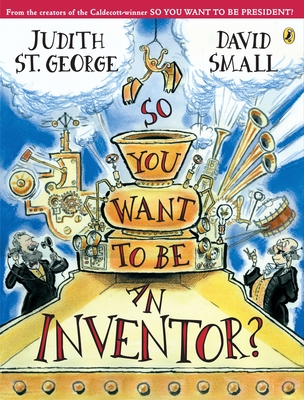 $7.99
Not On Our Shelves—Ships in 1-5 Days
Description
---
St. George and Small, the Caldecott Medal-winning team who created So You Want to Be President?, are back with another spirited and witty look at history-this time focusing on the inventors and inventions who have given us lightbulbs, automobiles, and all the other things that keep the world humming.

So You Want to Be an Inventor? features some of the world's best-known inventors-Thomas Edison, Benjamin Franklin, Eli Whitney-as well as lesser-known geniuses like Georges de Mestral (inventor of Velcro), Wilhelm Roentgen (inventor of X rays), and Hedy Lamarr (inventor of a system that became the basis for satellite communication-who knew?). Whether you're a dreamer or a loner, a copycat or a daredevil, this book might just inspire readers to invent something that could change the world!
About the Author
---
Judith St. George has published dozens of successful nonfiction books for children, including the Caldecott Medal-winning So You Want to Be President? and the historical Turning Point series, including You're On Your Way, Teddy Roosevelt; Stand Tall, Abe Lincoln; and Take the Lead, George Washington. You can visit her online at www.judithstgeorge.com.