Mission to Mars (Let's-Read-and-Find-Out Science 2) (Paperback)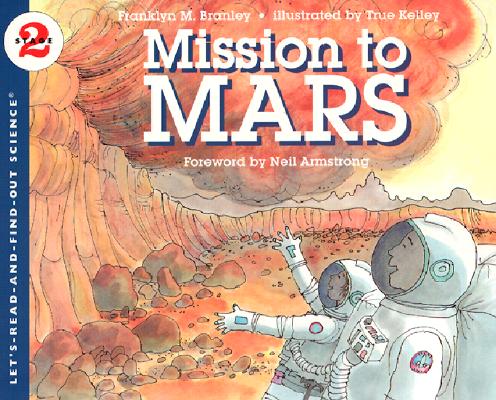 $5.99
Not On Our Shelves—Ships in 1-5 Days
Description
---
Read and find out about exploring Mars in this colorfully illustrated nonfiction picture book.
Someday people from Earth may live on Mars. Soon we will go to the planet to learn more about it. It will become our outpost in space—our space colony. 
The author-illustrator pair who brought us The International Space Station, Floating in Space, and What the Moon Is Like tackle the hot topic in space: a mission to the red planet.
This is a clear and appealing science book for early elementary age kids, both at home and in the classroom. It's a Level 2 Let's-Read-and-Find-Out, which means the book explores more challenging concepts for children in the primary grades. The 100+ titles in this leading nonfiction series are:
hands-on and visual
acclaimed and trusted
great for classrooms
Top 10 reasons to love LRFOs:
Entertain and educate at the same time
Have appealing, child-centered topics
Developmentally appropriate for emerging readers
Focused; answering questions instead of using survey approach
Employ engaging picture book quality illustrations
Use simple charts and graphics to improve visual literacy skills
Feature hands-on activities to engage young scientists
Meet national science education standards
Written/illustrated by award-winning authors/illustrators & vetted by an expert in the field
Over 130 titles in print, meeting a wide range of kids' scientific interests
Books in this series support the Common Core Learning Standards, Next Generation Science Standards, and the Science, Technology, Engineering, and Math (STEM) standards. Let's-Read-and-Find-Out is the winner of the American Association for the Advancement of Science/Subaru Science Books & Films Prize for Outstanding Science Series.
About the Author
---
Franklyn M. Branley was the originator of the Let's-Read-and-Find-Out Science series and the author of close to 150 popular books about scientific topics for young readers of all ages. He was Astronomer Emeritus and former Chairman of the American Museum of Natural History-Hayden Planetarium.
True Kelley has illustrated many favorite books for children in her fun-filled watercolor style, including several in the Let's-Read-and-Find-Out Science series. She and the author previously collaborated on What Makes a Magnet? and What the Moon is Like?
True Kelley lives in Warner, New Hampshire.