I'm Growing! (Let's-Read-and-Find-Out Science 1) (Paperback)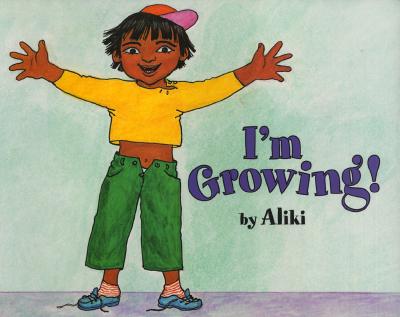 $6.99
Special Order—Subject to Availability
Description
---
The food we eat helps our bones and muscles, skin and hair, teeth and toenails grow bigger and longer and stronger. Inside and outside, we grow and grow without even knowing it! With her trademark simple words and delightful pictures, acclaimed children's writer Aliki helps young readers understand how their bodies change and grow. This nonfiction picture book is an excellent choice to share during homeschooling, in particular for children ages 4 to 6. It's a fun way to learn to read and as a supplement for activity books for children.
I'm Growing! is a Level One Let's-Read-and-Find-Out Science title, which means the book explores more challenging concepts for children in the primary grades and supports the Common Core Learning Standards, Next Generation Science Standards, and the Science, Technology, Engineering, and Math (STEM) standards. Let's-Read-and-Find-Out is the winner of the American Association for the Advancement of Science/Subaru Science Books & Films Prize for Outstanding Science Series.
About the Author
---
With more than 60 fiction and nonfiction titles for children to her credit, Aliki has been delighting her many fans since her first book was published in 1960. Born in New Jersey, she now lives in New York City.
Aliki's books for young readers include the Let's-Read-and-Find-Out titles Digging Up Dinosaurs, Fossils Tell of Long Ago, My Feet, and My Hands. Other nonfiction books by Aliki include How a Book Is Made, Mummies Made in Egypt, My Visit to the Aquarium, My Visit to the Dinosaurs, My Visit to the Zoo, Wild and Woolly Mammoths, and William Shakespeare & the Globe.