Detective Dinosaur (I Can Read Level 2) (Paperback)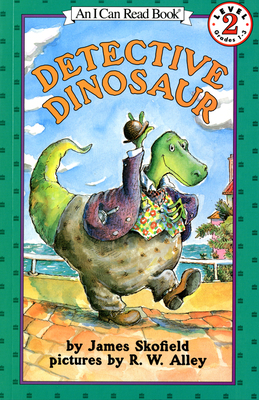 Description
---
Meet comically clueless Detective Dinosaur and his loyal sidekick, Officer Pterodactyl, in this first of three hilarious misadventures from the crack team of author James Skofield and illustrator R. W. Alley that is sure to please mystery lovers and dinosaur fans alike.
First, Detective Dinosaur solves the mystery of the missing hat. Then he cracks the case of the squeaky shoe. Then he goes on night patrol, and spots a scary shadow in a dark alley. Can it be a monster? Help Detective Dinosaur follow the clues and find out!
This Level Two I Can Read is geared toward kids who read on their own but still need a little help.
About the Author
---
James Skofield has written several picture books as well as the I Can Read Books Detective Dinosaur and Detective Dinosaur Lost and Found. He lives in Walpole, NH.
R. W. Alley has illustrated a number of books featuring Paddington Bear. He lives in Barrington, Rhode Island, with his wife, author Zoë B. Alley.