Tonight, by Sea (Paperback)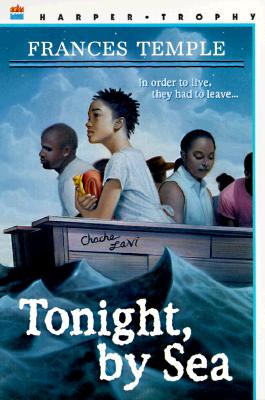 $5.99

Special Order—Subject to Availability
Description
---
Seek life. Chache Lavi. That's what Paulie's uncle says they must do. But to seek life, Paulie and her family have to leave Haiti-the only home that Paulie has ever known. Since forever, Paulie has run in and out of the little houses nestled under the palms, smelling cocoa-bread and playing on the beach with her best friend Karyl. But now the little houses are gone. Their wood has been made into boats-boats used to escape Haiti.
Paulie wants to stay and fight-to change Haiti into a better place to live. She wants to talk to the reporters and bravely tell the truth, like Karyl's brother, Jean-Desir. But the macoutes come with their guns and knives to stop them. And they do something so terrible that Paulie must face the truth: before the soldiers come back, they must all leave-tonight, by sea.
About the Author
---
Frances Temple grew up in Virginia, France, and Vietnam. About her third book she wrote, "The Ramsay Scallop is about our need for adventure and motion, for throwing in with strangers, trusting and listening. The story began to take form in northern Spain along pilgrim trails; was fed by histories, stories, letters, by the testimony of a fourteenthcentury shepherd, by the thoughts of today's pilgrims. Concerns echo across years-clean water, good talk, risks welcomed, the search for a peaceful heart. Traveling in Elenor's shoes, I found out how strongly the tradition of pilgrimage continues."Ms. Temple received many honors during her distinguished career. Her other critically acclaimed books for young people include: FranceTaste of Salt A Story of Modern Haiti, winner of the 1993 Jane Addams Children's Book Award; Grab hands and Run, cited by SchoolLibrary journal as one of the Best Books of 1993; and Tonight, by Sea another novel set in Haiti.