We're following all official guidelines to keep ourselves healthy on the job, and as a result, shipping may be delayed.
You will receive an email from our web orders team confirming that your order has been processed.
We thank you for your support and your patience at this challenging time.
Spectacle: The Astonishing Life of Ota Benga (Hardcover)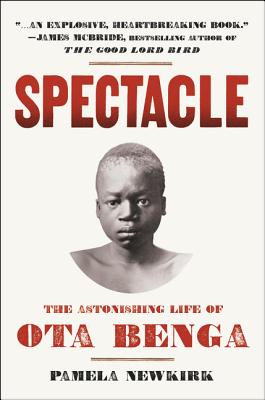 Description
---
2016 NAACP Image Award Winner
Winner of the 2016 Hurston/Wright Legacy Award in Nonfiction
An award-winning journalist reveals a little-known and shameful episode in American history, when an African man was used as a human zoo exhibit—a shocking story of racial prejudice, science, and tragedy in the early years of the twentieth century in the tradition of The Immortal Life of Henrietta Lacks, Devil in the White City, and Medical Apartheid.
In 1904, Ota Benga, a young Congolese "pygmy"—a person of petite stature—arrived from central Africa and was featured in an anthropology exhibit at the St. Louis World's Fair. Two years later, the New York Zoological Gardens displayed him in its Monkey House, caging the slight 103-pound, 4-foot 11-inch tall man with an orangutan. The attraction became an international sensation, drawing thousands of New Yorkers and commanding headlines from across the nation and Europe.
Spectacle explores the circumstances of Ota Benga's captivity, the international controversy it inspired, and his efforts to adjust to American life. It also reveals why, decades later, the man most responsible for his exploitation would be hailed as his friend and savior, while those who truly fought for Ota have been banished to the shadows of history. Using primary historical documents, Pamela Newkirk traces Ota's tragic life, from Africa to St. Louis to New York, and finally to Lynchburg, Virginia, where he lived out the remainder of his short life.
Illuminating this unimaginable event, Spectacle charts the evolution of science and race relations in New York City during the early years of the twentieth century, exploring this racially fraught era for Africa-Americans and the rising tide of political disenfranchisement and social scorn they endured, forty years after the end of the Civil War. Shocking and compelling Spectacle is a masterful work of social history that raises difficult questions about racial prejudice and discrimination that continue to haunt us today.
About the Author
---
Pamela Newkirk is an award-winning journalist and a professor of journalism at New York University. She is the author of Within the Veil: Black Journalists, White Media, which won the National Press Club Award for media criticism, and the editor of Letters from Black America. She lives in New York City.
Praise For…
---
"Here is a gripping and painstaking narrative that breaks new ground. Now, after a century, Benga has finally been heard."
— New York Times Book Review

"Newkirks account of this shocking and shameful story is forceful."
— The New Yorker

"Haunting and heartbreaking."
— Ebony

"What became of Benga is best left discovered by readers of this revelatory book. Suffice to say that the shock of it will haunt you. Newkirk's dispassionate, powerfully understated writing lets her sorrowful account speak for itself."
— San Francisco Chronicle

"[Ota Benga's] story has been told before, but the journalist Pamela Newkirk fleshes it out with chilling human dimension and rich anthropological perspective in her engrossing new book, Spectacle.
— New York Times, Metro Section "Bookshelf" Review

"With her meticulously researched account, Newkirk rights the record, offering a profoundly unsettling look at the racism deeply rooted in even the city's (and the nation's) progressive institutions at the start of the 20th century."
— NYU Stories (Online)

"Newkirk's investigation is a nuanced account of Benga's relationship with Verner and Hornaday, a subtle look into what it meant for a colonized African to be free and how the pursuit of scientific knowledge played a role in racial subjection."
— Jezebel

"In this enthralling social history, Newkirk reveals the truth about Ota Benga, the people who exploited him and the heroes who fought vainly to save him."
— More magazine

"This is an explosive, heartbreaking book. It unfolds with the grace of an E.L. Doctorow novel, and spins forward with the urgency of a wild tabloid story."
— James McBride, bestselling author of The Good Lord Bird

"A riveting account of one of the most startling episodes in the sorry history of race in America. Ms. Newkirk is a crisp storyteller as well as an experienced journalist whose investigative skills bring alive both her cast of characters and the age in which they lived."
— Wall Street Journal

"Compelling. . . . Spectacle is an exhaustively researched work of social history that links Benga's story with examinations of turn-of-the-century racial discrimination and discord, scientific polygenism, middle-class African American life in New York, and yellow journalism."
— Washington Post

"Deeply researched and thoughtful. . . . Writing with precision and moral clarity, Newkirk indicts a civilization whose 'cruelty was cloaked in civility,' leaving us to examine its remnants."
— Boston Globe

"Painstakingly researched and heartbreaking. . . . Newkirk does an exemplary job of respecting the damaged dignity of her subject."
— In These Times

"Pamela Newkirk has taken a careful, highly readable look at an episode that lays bare so much about our not-so-distant past. It's all here: the dreams of glory in African exploration, appalling racism, and the moving, tragic odyssey of a forgotten man who was the victim of both."
— Adam Hochschild, author of King Leopold's Ghost

"A shocking tale of a young African taken from his home for the purposes of Western science throws into relief the turn-of-the-century's ill-conceived intentions and prejudice. . . . An inspired and moving work of intrepid scholarship."
— Kirkus Reviews

"Meticulously detailed. . . . Readers will be moved, especially when reading about the tragic turns Benga's life took in the years after he was released."
— Publishers Weekly