We're following all official guidelines to keep ourselves healthy on the job, and as a result, shipping may be delayed.
You will receive an email from our web orders team confirming that your order has been processed.
We thank you for your support and your patience at this challenging time.
American Uprising: The Untold Story of America's Largest Slave Revolt (Hardcover)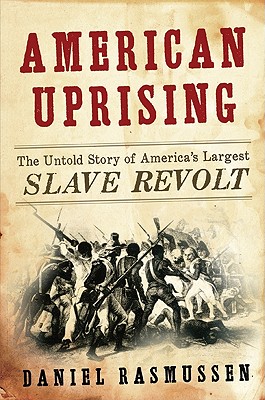 Description
---
"Breathtaking. [Rasmussen's] scholarly detective work reveals a fascinating narrative of slavery and resistance, but it also tells us something about history itself—about how fiction can become fact, and how 'history' is sometimes nothing more than erasure." —Henry Louis Gates, Jr.

"Deeply researched, vividly written, and highly original." —Eric Foner

Historian Daniel Rasmussen reveals the long-forgotten history of America's largest slave uprising, the New Orleans slave revolt of 1811. In an epic, illuminating narrative, Rasmussen offers new insight into American expansionism, the path to Civil War, and the earliest grassroots push to overcome slavery.

About the Author
---
Daniel Rasmussen graduated summa cum laude and Phi Beta Kappa from Harvard University in 2009, winning the Kathryn Ann Huggins Prize, the Perry Miller Prize, and the Thomas Temple Hoopes Prize.
Praise For…
---
"A chilling and suspenseful account [of] the culmination of a signal episode in the history of American race relations."
— Adam Goodheart, The New York Times Book Review

"A crisp, confident writer, Rasmussen tells this story with verve."
— John Stauffer, The Wall Street Journal

"An important book. . .This tale deserves to be much better known, as does the larger story of slave resistance. American Uprising represents a signal achievement."
— The Cleveland Plain Dealer

"American Uprising offers a detailed, fascinating glimpse into a previously ignored part of history."
— The Fort Worth Star-Telegram

"An incredible true story."
— New York Post

"Daniel Rasmussen has performed an important service for American history. . .American Uprising challenges much of what we think we know about American slavery."
— The St. Louis American

"Rasmussen provides a provocative, reader-friendly, though well-researched, account of the largest slave revolt in American history."
— The Monroe News Star

"New Orleans has been the scene of many dark adventures, but none so shocking as the slave rebellion of 1811. Daniel Rasmussen has unearthed a stunning tale of freedom and repression and told it in gripping fashion."
— Evan Thomas

"A deeply researched, vividly written, and highly original account of the largest slave revolt in the nineteenth-century United States. . . . Thanks to Rasmussen, we now have the full story of this dramatic moment in the struggle for freedom in this country."
— Eric Foner

"Rasmussen adds fresh research to the story of the 1811 revolt, ushering it into the context of slavery, the history of the South, and the ugly brutality our nation built itself on. . . . Great reading for anyone interested in history."
— The Portland Book Review

"Rasmussen has illuminated a remarkable event long obscured by the years."
— The Charleston Post and Courier