We're following all official guidelines to keep ourselves healthy on the job, and as a result, shipping may be delayed.
You will receive an email from our web orders team confirming that your order has been processed.
We thank you for your support and your patience at this challenging time.
The Weight of a Mustard Seed: The Intimate Story of an Iraqi General and His Family During Thirty Years of Tyranny (Paperback)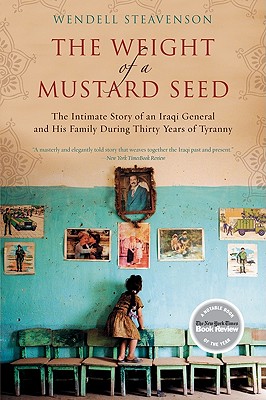 Description
---
General Kamel Sachet was a favorite of Saddam Hussein's, a hero of the Iran-Iraq war, head of the army in Kuwait City during Desert Storm, governor of the Maysan province, and father of nine. How did Sachet and his fellow Baathist loyalists live in Saddam's Iraq...and how did they live with themselves? Why did they serve such a monstrous regime? And what finally opened Sachet's eyes to the fact that he was a participant in a system of terror and repression that was strangling his country and destroying its people?
Through the remarkable story of General Sachet and the stories of those around him, author Wendell Steavenson goes behind the headlines to examine a national tragedy begotten of unintended consequences. The Weight of a Mustard Seed is a gripping account of one man's rise and fall, and a vivid, compassionate portrayal of the Iraqi people.
About the Author
---
Wendell Steavenson wrote for The New Yorker from Cairo for more than a year during the Egyptian revolution. She has spent most of the past decade and a half reporting from the Middle East and the Caucasus for the Guardian, Prospect magazine, Slate, Granta and other publications. Steavenson has written two previous books, both critically acclaimed: Stories I Stole, about post-Soviet Georgia, and The Weight of a Mustard Seed, about life and morality in Saddam's Iraq and the aftermath of the American invasion. She was also a 2014 Nieman Fellow at Harvard. Steavenson currently lives in Paris.
Praise For…
---
"Steavenson is a talented writer and her reconstruction of Sachet's story is staggering in its revelation of a collective psychological trauma that continues to grip a nation."
— Publishers Weekly (starred review)

"[The Weight of a Mustard Seed] weaves a fascinating account of how good men went terribly wrong… echoing works by Hannah Arendt, Primo Levi and Stanley Milgram. A tenacious attempt to answer the question, 'How do ordinary little human cogs make up a torture machine?'"
— Kirkus Reviews

Praise for STORIES I STOLE: "A remarkable first effort from a writer to watch."
— Publishers Weekly

Praise for STORIES I STOLE: "Lovely…Stories I Stole, like the works of Bruce Chatwin or Ryszard Kapuçinski, is poised somewhere between memoir and ethnography…The great heart of the book, though, belongs to the people [Steavenson] met."
— Time Out New York

Praise for STORIES I STOLE: "[This] unusual and beautifully worded tale is, mercifully, nothing like the usual foreign correspondent's end-of-term book…[An] accomplished narrative-part travelogue, part love story…When [Steavenson] tells Georgian people's stories, you hear real voices."
— The Times (London)