Come Back: A Mother and Daughter's Journey Through Hell and Back (P.S.) (Paperback)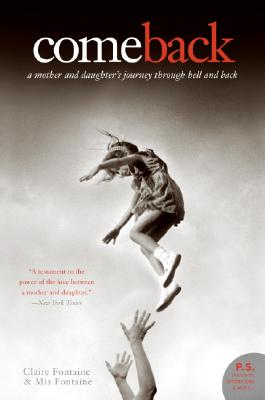 $16.99
Not On Our Shelves—Ships in 1-5 Days
Description
---
In powerful parallel stories, mother and daughter give mesmerizing first-person accounts of the nightmare that shattered their family and the amazing journey they took to find their way back to each other. Claire Fontaine's relentless cross-country search for her missing child and ultimate decision to force her into treatment in Eastern Europe is a gripping tale of dead ends, painful revelations, and, at times, miracles. Mia Fontaine describes her refuge in the seedy underworld of felons and addicts as well as the jarring shock of the extreme, if loving, school that enabled her to overcome depression and self-loathing. Both women detail their remarkable process of self-examination and healing with humor and unsparing honesty.
Come Back is an unforgettable true story of love and transformation that will resonate with mothers and daughters everywhere.
Praise For…
---
"Come Back is a testament to the power of the love between a mother and a daughter."
-New York Times Book Review

"Best mother-daughter memoir."
-Glamour

"We strongly recommend this powerful mother-daughter memoir...Intense, shocking, and ultimately triumphant..."
-Barnes & Noble

"A nightmarish saga of a teenage runaway in L.A. ends triumphantly. . . . Heart-wrenching, honest dialogue."
-Publishers Weekly

"A powerful and moving story of two brave women who struggled through darkness into the light."
-Susan Forward, Ph.D., author of Toxic Parents

"A rare, visceral reading experience....Offering lessons in living, loving, and accepting responsibility that could benefit every reader."
-Edwin John Wintle, author of Breakfast with Tiffany: An Uncle's Memoir

"One of those rare books I could hardly put down until I finished. . . . Brilliant—and often funny, too!"
-Leah Komaiko, author of Am I Old Yet?