We're following all official guidelines to keep ourselves healthy on the job, and as a result, shipping may be delayed.
You will receive an email from our web orders team confirming that your order has been processed.
We thank you for your support and your patience at this challenging time.
The Way of the World: A Story of Truth and Hope in an Age of Extremism (Paperback)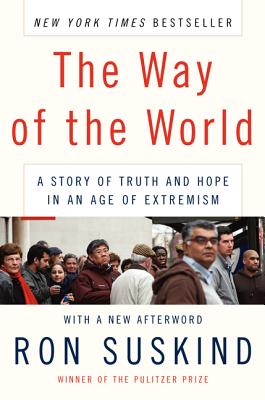 $16.99
Not On Our Shelves—Ships in 1-5 Days
Description
---
From Pulitzer Prize-winning journalist and bestselling author Ron Suskind comes an astonishing investigation of how America lost its way and the nation's daily struggle to reclaim the moral authority upon which its survival depends. Tracking down historic revelations and improbable hope from the Beltway to the farthest corners of the globe, Suskind delivers a stirring and strikingly original portrait of the post-9/11 world.
About the Author
---
RON SUSKIND is the author of The Way of the World, The One Percent Doctrine, The Price of Loyalty, and A Hope in the Unseen. From 1993 to 2000 he was the senior national affairs writer for The Wall Street Journal, where he won a Pulitzer Prize. He lives in Washington, D.C.
Praise For…
---
"A touching story. . . . Suskind is a skilled reporter. . . The moral of Suskind's story, in short, is that nothing suceeds like truthfulness."
— The Washington Post Book World

"Suskind's reporting continues to make him an indispensable chronicler of the Bush/Cheney debacle."
— Tim Rutten, The Los Angeles Times

"Ron Suskind does not think small. . . . A sweeping examination of moral authority in a global world and how a post-9/11 America seems to have lost its way."
— The Boston Globe

"A bombshell book."
— The Today Show

"An explosive new book."
— MSNBC.com

"There is much more to learn from Suskind's reporting, including new evidence that Bush and other officials knew there were no WMD in Iraq."
— Joe Conason, Salon

"An ambitious attempt to weave all the strands of our current conflict into a unified whole. . . . Ron Suskind's new book has earned buzz because of his arresting argument that the Bush administration actually forged evidence to buttress its case for war."
— Andrew Sullivan

"Moving. . . . Mr. Suskind is a prodigiously talented craftsman. . . . It's all here: a cast of characters that sprawls across class and circumstance to represent the totality of a historical moment. . . . These hard times, Mr. Suskind's book suggests, call for a nonfiction Dickens."
— The New York Observer

"Outstanding. . . . A searching, globe-hopping masterpiece of investigative journalism and empathetic prose. Amidst the 'arabesque' of richly drawn characters, Suskind reveals a few bombshell discoveries regarding the Bush Administration's irresponsibility and outright lies."
— The Huffington Post

"The leading chronicler of the forty-third president."
— Esquire

"Ron Suskind has traced the history of the Bush years with a novelist's ear. Now he looks at the tragedy through the eye of the victims."
— The American Prospect

"Suskind is a brilliant reporter and his investigation into the post- 9/11, pre-Iraq war period makes you think you're reading about it for the first time. . . . It's damning. Give this man another Pulitzer Prize."
— Christopher Buckley, The Daily Beast

"Incisive. . . . No journalist has more ably explored the dark crevices of the Bush administration's foreign policy. . . . Suskind has shown that faith -- the wrong kind of faith, anyway -- can produce disaster."
— Salon

"Extraordinary. . . . If Mr Suskind is correct, laws have been broken and President George W. Bush and/or Dick Cheney are implicated. . . . This is—or ought to be—a Watergate-sized scandal."
— Clive Crook, The Financial Times

"Startling. . . . Chilling. . . . A reportorial feat. . . . Suskind skillfully traces several interwoven stories of cultural clashes and cross-pollination, all of them pursuing the questions of whether America and the Muslim world can ever look past their differences and find understanding."
— Michael Crowley, The New York Times Book Review

"Complex, ambitious, provocative, risky. . . . In a crowded, highly talented field, Mr. Suskind bids fair to claim the crown as the most perceptive, incisive, dogged chronicler of the inner workings of the Bush administration."
— Mark Danner, The New York Times

"A vivid snapshot of a year, 2006-2007, in the life of a nation whose leaders have betrayed its high moral purpose. One of Suskind's Washington players cries into the darkness, "Can the great beast self-correct?" Can America, Suskind asks, recover its missionary rectitude? He clearly thinks it can."
— The Sunday Times (London)