We're following all official guidelines to keep ourselves healthy on the job, and as a result, shipping may be delayed.
You will receive an email from our web orders team confirming that your order has been processed.
We thank you for your support and your patience at this challenging time.
The Hour I First Believed: A Novel (Paperback)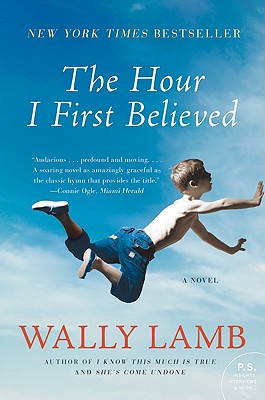 Description
---
When high school teacher Caelum Quirk and his wife, Maureen, a school nurse, move to Littleton, Colorado, they both get jobs at Columbine High School. In April 1999, while Caelum is away, Maureen finds herself in the library at Columbine, cowering in a cabinet and expecting to be killed. Miraculously, she survives, but at a cost: she is unable to recover from the trauma. When Caelum and Maureen flee to an illusion of safety on the Quirk family's Connecticut farm, they discover that the effects of chaos are not easily put right, and further tragedy ensues.
About the Author
---
Wally Lamb is the author of five New York Times bestselling novels: She's Come Undone, I Know This Much Is True, The Hour I First Believed, Wishin' and Hopin', and We Are Water. His first two works of fiction, She's Come Undone and I Know This Much Is True, were both #1 New York Times bestsellers and selections of Oprah's Book Club. Lamb edited Couldn't Keep It to Myself, I'll Fly Away, and You Don't Know Me, three volumes of essays from students in his writing workshop at York Correctional Institution, a women's prison in Connecticut, where he has been a volunteer facilitator for two decades. He lives in Connecticut and New York.
Praise For…
---
"Lamb . . . has delivered a tour de force, his best yet. A"
— Entertainment Weekly

"A page-turner. . . . Lamb remains a storyteller at the top of his game."
— Craig Wilson, USA Today

"Too compelling to put down . . . a richly textured story . . . moving, funny, and completely unpredictable."
— Gail Pennington, St. Louis Post-Dispatch

"Every character is rendered with vivid, utterly convincing depth. . . . A heck of a page-turner."
— Dallas Morning News

"Lamb, a maestro of orchestrating emotion . . . knows how to make his fans' hearts sing."
— Corrie Pikul, Elle

"Wally Lamb is a remarkable talent."
— Columbus Dispatch

"Lamb has crafted another affecting, engrossing tome about complicated, interesting characters."
— Cherie Parker, Minneapolis Star Tribune

"A soaring novel as amazingly graceful as the classic hymn that provides the title"
— Miami Herald

"Lamb does an extraordinary job narrating some of the most terrifying tragedies of the past 10 years....an epic journey. Grade: A."
— Rocky Mountain News

"When you put Lamb's newest novel down, it will be reluctantly. It's that good."
— Knoxville News-Sentinel