Fat Cat of Underwhere (Hardcover)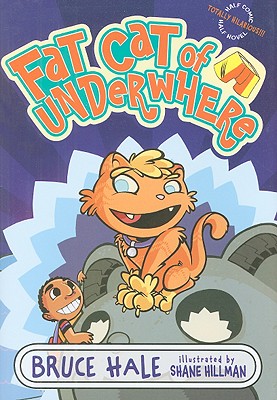 $15.99

Special Order—Subject to Availability
Other Books in Series
This is book number 4 in the Underwhere series.
Description
---
Cats are not meant to save the world.
Fitz the cat is supposed to be enjoying the normal activities savored by those of the feline persuasion—napping (a lot), nibbling on house plants, sharpening his claws on expensive furniture, and, most importantly, never, ever doing what a human wants him to.
But instead, thanks to Zeke, Stephanie, and Hector—those meddling, tuna-hatin', whiskerless kids who dragged him down to Underwhere—Fitz has bigger fish to fry (though, of course, he prefers his fish raw).
Not only has he started thinking like a human, he's actually helping them recover the stolen Scepter of Underwhere, battle a wild pack of triceradoodles, outwit a roaming band of savage mice, and foil the plans of the strange new movie director in town, who happens to smell awfully familiar. . . .
About the Author
---
Bruce Hale has written and/or illustrated over thirty-five books for kids, and is the author of Clark the Shark; Clark the Shark Dares to Share; the award-winning Chet Gecko Mysteries series; Snoring Beauty, one of Oprah's Recommended Reads for Kids; and the School for S.P.I.E.S. series. In his free time, Bruce enjoys hiking, watching movies, and making music. He lives in Santa Barbara, California, with his wife, dog, and many hats. You can catch him online at www.brucehale.com.
Shane (meowing marvel) Hillman is the illustrator of the Underwhere series as well as the creator of many comic strips on the web and in print. You'll find him ruffling his whiskers and taking many, many baths in Houston, Texas.