Let's Go Rock Collecting (Let's-Read-and-Find-Out Science 2) (Library Binding)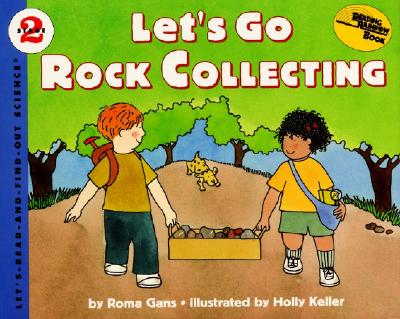 $15.89

Special Order—Subject to Availability
Description
---
Read and find out about rocks and rock collecting in this colorfully illustrated nonfiction picture book.
Readers follow two enthusiastic rock hounds around the globe as they add to their collection. Along the way they will learn how sedimentary, metamorphic, and igneous rocks are formed. From the Egyptian pyramids to Roman roads, from the diamond ring on a finger to the pebbles under your feet, rocks are everywhere! 
This is a Level 2 Let's-Read-and-Find-Out, which means the book explores more challenging concepts for children in the primary grades. The 100+ titles in this leading nonfiction series are:
hands-on and visual
acclaimed and trusted
great for classrooms
Top 10 reasons to love LRFOs:
Entertain and educate at the same time
Have appealing, child-centered topics
Developmentally appropriate for emerging readers
Focused; answering questions instead of using survey approach
Employ engaging picture book quality illustrations
Use simple charts and graphics to improve visual literacy skills
Feature hands-on activities to engage young scientists
Meet national science education standards
Written/illustrated by award-winning authors/illustrators & vetted by an expert in the field
Over 130 titles in print, meeting a wide range of kids' scientific interests
Books in this series support the Common Core Learning Standards, Next Generation Science Standards, and the Science, Technology, Engineering, and Math (STEM) standards. Let's-Read-and-Find-Out is the winner of the American Association for the Advancement of Science/Subaru Science Books & Films Prize for Outstanding Science Series.
About the Author
---
The late Roma Gans was a
co-founder of the Let's-Read-and-Find-Out Science series.
How Do Birds Find Their Way?,
illustrated by Paul Mirocha, is one of her many titles.
Holly Keller is also the
illustrator of From Tadpole to Frog by Wendy Pfeffer and Who Eats What? by Patricia Lauber. She lives in West Redding, CT.



Holly Keller has illustrated a number of books in the Lets-Read-and-Find-Out Science series, including Be a Friend to Trees. She is also the author and illustrator of many picture books, including Island Baby and Horace.
Ms. Keller lives in West Redding, Connecticut.