I AM, I AM, I AM, by O'Farrell NOTE: Meeting Online
Monday, February 8, 7:30 pm
The Women's Biography Book Group is led by Doris Feinsilber and meets the 2nd Monday of each month at 7:30 p.m. The book group is meeting online. Participants limited to 20 sign ups. Please contact bookgroups@politics-prose for information.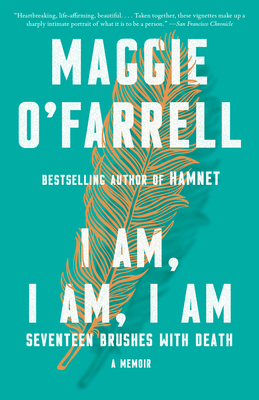 $16.00
In Stock—Click for Locations
February 2018 Indie Next List
---
"Maggie O'Farrell's memoir left me breathless and heart-sore. There were times I literally had a fist to my own heart in sympathy. The encounters told according to each limb or organ is a genius device; it is as though each distinct part of her body had its own voice and wanted my sole attention. Even the spaces of years between each event were full of meaning and nuance. This is one of the most mesmerizing memoirs I have ever read. The breadth and scope of Maggie's 17 brushes with death left me gasping for air, and her strong voice is indelible: There is no victim here, and life is to be treasured but not treated too delicately."
— Maeve Noonan, Northshire Bookstore Saratoga, Saratoga Springs, NY
Description
---
On seventeen occasions, Maggie O'Farrell has stared death in the face—and lived to tell the tale. In this astonishing memoir, she shares the near-death experiences that have punctuated and defined her life: The childhood illness that left her bedridden for a year, which she was not expected to survive. A teenage yearning to escape that nearly ended in disaster. An encounter with a disturbed man on a remote path. And, most terrifying of all, an ongoing, daily struggle to protect her daughter from a condition that leaves her unimaginably vulnerable to life's myriad dangers. Here, O'Farrell stiches together these discrete encounters to tell the story of her entire life. In taut prose that vibrates with electricity and restrained emotion, she captures the perils running just beneath the surface, and illuminates the preciousness, beauty, and mysteries of life itself.
About the Author
---
Born in Northern Ireland in 1972, MAGGIE O'FARRELL grew up in Wales and Scotland and now lives in London. She has worked as a waitress, chambermaid, bike messenger, teacher, and arts administrator, as a journalist in Hong Kong and London, and as the deputy literary editor of The Independent on Sunday. Her debut novel, After You'd Gone (2000), won a Betty Trask Award and was followed by My Lover's Lover (2002); The Distance Between Us (2004), winner of a Somerset Maugham Award; The Vanishing Act of Esme Lennox (2006); The Hand That First Held Mine (2010); Costa Book Award winner Instructions for a Heatwave (2013); and, most recently, This Must Be the Place (2016). www.maggieofarrell.com
Praise For…
---
One of LitHub's 10 Best Essay Collections of the Decade

"Transfixing. . . . A mystical howl, a thrumming, piercing reminder of how very closely we all exist alongside what could have happened, but didn't." —The New York Times Book Review

"Heartbreaking, life-affirming, beautiful. . . . Taken together, these vignettes make up a sharply intimate portrait of what it is to be a person in a body—and in particular, a female body." —San Francisco Chronicle
 
"An extraordinary book, a reminder that while life has its limits and can be unpredictable, we should push against limitations and not give in to fear." —NPR

"A uniquely complete portrait of a life fully lived. . . . Its unconventional structure probes deep ­questions about the human condition, and it establishes a narrative that finds meaning and truth in life's chaos and randomness." —Entertainment Weekly
 
"Clever and poignant, thought provoking and deeply affective." —GOOP

"This intense, unsparing memoir is less about death than about chance, risk and the gift of another day." —People Magazine
 
"A pleasure to read. And, indeed, difficult to stop reading. . . . There are echoes of Virginia Woolf not just in the rhythm of the prose but also in its dreamlike immediacy. The effect, ingeniously, is of a life told through the gaps, those near misses, on the eluding of which the rest of life hangs." —The Wall Street Journal
 
"Where other writers may be playing with paper, O'Farrell takes up a bow and arrow and aims at the human heart." —The Guardian
 
"[A] breathtaking memoir. . . . The book O'Farrell was born to write." —Bustle
 
"We all have them, those experiences that are even more terrifying in retrospect than they were in the moment, but in this riveting memoir, O'Farrell has written hers down. . . . Her stories are harrowing, but the purpose of these essays is not to frighten. It is to affirm." —Minneapolis Star Tribune
 
"I Am, I Am, I Am is a gripping and glorious investigation of death that leaves the reader feeling breathless, grateful, and fully alive. Maggie O'Farrell is a miracle in every sense. I will never forget this book." —Ann Patchett
 
"A page-turner of a memoir." —Elle
 
"[O'Farrell] manages to relate all . . . without self-pity and in a tone that finds a balance between defiance and resilience. The revelatory journey that the author skillfully takes the reader on is also the path from youthful recklessness to a more judicious standpoint, later in life." —Santa Fe New Mexican
 
"A mesmerising read." —The Sunday Times (London)
 
"Intimate in all senses of the word—physically, psychologically, mentally, and emotionally. There is something truly generous about [O'Farrell's] style. . . . This is a memoir to be cherished." —The Rumpus
 
"Ingenious and original. . . . A rich celebration of every breath O'Farrell's taken." —The Independent
 
"[A] gloriously unconventional memoir. Maggie O'Farrell deconstructs our relationship to death by recounting the many times she's neared it." —Southern Living
 
"Striking and unexpected." —Kirkus Reviews