FREEDOM , by Franzen
Waterfront Fiction at the Wharf book group meets the 2nd to last Sunday of each month as the meeting date. The leader of the book group is Gina Genis, her email is ggvendor@gmail.com
Join booksellers in P&P at The Wharf as we read and discuss the best books set in our hometown, Washington D.C.! We'll be looking beyond the monuments to celebrate titles that explore real life in this unique city. All are welcome and there's no need to RSVP, just show up on the evening.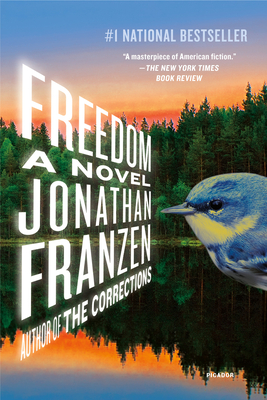 $18.00
In Stock—Click for Locations
Description
---
#1 National Bestseller
Winner of the John Gardner Fiction Award
A National Book Critics Circle Award Finalist
A Los Angeles Times Book Prize Finalist
In his first novel since The Corrections, Jonathan Franzen has given us an epic of contemporary love and marriage. Freedom comically and tragically captures the temptations and burdens of liberty: the thrills of teenage lust, the shaken compromises of middle age, the wages of suburban sprawl, the heavy weight of empire. In charting the mistakes and joys of Walter and Patty Berglund as they struggle to learn how to live in an ever more confusing world, Franzen has produced an indelible and deeply moving portrait of our time.
About the Author
---
Jonathan Franzen is the author of Purity, The Corrections, Freedom, among other novels, and five works of nonfiction and translation, including Farther Away and The Kraus Project, all published by FSG. He is a member of the American Academy of Arts and Letters, the German Akademie der Künste, and the French Ordre des Arts et des Lettres.
Praise For…
---
"A masterpiece of American fiction." —The New York Times Book Review
"Mr. Franzen has written his most deeply felt novel yet--a novel that turns out to be both a compelling biography of a dysfunctional family and an indelible portrait of our times." —The New York Times
"A work of total genius." —New York Magazine
"The Great American Novel." —Esquire
"One of the best living American novelists." —Time
"Epic." —Vanity Fair
"Hugely ambitious . . . Freedom is very, very good." —USA Today
"Brilliant . . . Epic . . . An extraordinary stylist." —The Washington Post
"A surprisingly moving and even hopeful epic." —NPR
"Sweeping and powerful." —San Francisco Chronicle
"Consuming and extraordinarily moving." —Los Angeles Times
"Immense and unforgettable." —Chicago Tribune
"Devastatingly insightful." —The Miami Herald
"A page turner that engages the mind." —Newsday
"It's refreshing to see a novelist who wants to engage the questions of our time in the tradition of 20th-century greats like John Steinbeck and Sinclair Lewis . . . [This] is a book you'll still be thinking about long after you've finished reading it." —Associated Press
"Deeply moving and superbly crafted . . . It's such a full novel, rich in description, broad in its reach and full of wry observations." —Pittsburg Post-Gazette
"His writing is so gorgeous . . . Franzen is one of those exceptional writers whose works define an era and a generation, and his books demand to be read." —St. Louis Post-Dispatch
"A tour de force . . . one of the finest novelists of his generation." —The Philadelphia Inquirer
"A highly readable triumph of conventional realism . . . Addictive." —The National
"The first Great American Novel of the post-Obama era." —Telegraph (UK)
"A literary genius . . . This is simply on a different plane from other contemporary fiction . . . Freedom is the novel of the year, and the century." —The Guardian (UK)
"A triumph . . . A pleasure to read." —The New York Observer
"Exhilarating . . . Gripping . . . Moving . . . On a level with The Great Gatsby [and] Gone With the Wind." —Bloomberg
Coverage from NPR