MIDNIGHT IN PEKING, by French
Thursday, February 21, 7:00 pm
The True Crime Book Group meets on the 3rd Thursday of each month at 7 p.m. The group is led by P&P's Jenny Clines (jclines@politics-prose.com). This group reads about criminal activities, the people behind them, and their victims and survivors. You will enjoy this group if reading and talking about the grisly details of notorious crimes sounds like a fun evening to you.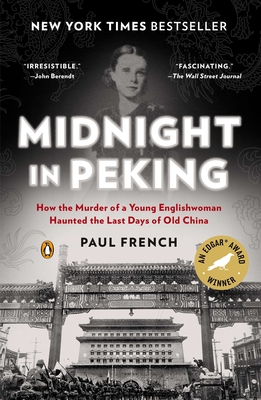 $18.00
In Stock—Click for Locations
Description
---
Winner of the both the Edgar Award for Best Fact Crime and the CWA Non-Fiction Dagger from the author of City of Devils


Chronicling an incredible unsolved murder, Midnight in Peking captures the aftermath of the brutal killing of a British schoolgirl in January 1937. The mutilated body of Pamela Werner was found at the base of the Fox Tower, which, according to local superstition, is home to the maliciously seductive fox spirits. As British detective Dennis and Chinese detective Han investigate, the mystery only deepens and, in a city on the verge of invasion, rumor and superstition run rampant. Based on seven years of research by historian and China expert Paul French, this true-crime thriller presents readers with a rare and unique portrait of the last days of colonial Peking.
About the Author
---
Paul French lives in Shanghai, where he is a business advisor and analyst He frequently comments on China for the English-speaking press around the world. French studied history, economics, and Mandarin at university and has an M.Phil in economics from the University of Glasgow.
Praise For…
---
"This is a good murder story, well told, with all the additional pleasures that a knowledgeable tour guide to old China can provide. Grateful readers could scarcely ask for more."  – Joseph Kanon, author of Istanbul Passage, in The Washington Post

"Never less than fascinating… one of the best portraits of between-the-wars China that has yet been written." – The Wall Street Journal

"Midnight in Peking is both a detective story and a social history, and therefore – as it should – always keeps the hunt for Pamela's killers somewhere near the center of the narrative. [Paul French] is a wonderfully dexterous guide" – Jonathan Spence in The New York Review of Books

"A crime story set among sweeping events is reminiscent of Graham Greene, particularly The Third Man, while French's terse, tightly-focussed style has rightly been compared to Chandler. Midnight in Peking deserves a place alongside both these masters." – The Independent

"A page-turning and fascinating true crime book. This is a genre-breaker that captures the atmosphere of 1930s Peking." – The Bookseller [selected as One to Watch]

"…the most talked-about read in town this year." – The New Yorker's Page-Turner Blog

"Midnight in Peking is true-crime writing at its best, full of vivid characters, an exotic locale, secrets galore, and a truly bewildering mystery." – The Christian Science Monitor

"…A compulsively readable true crime work in the tradition of Devil in the White City." – The Atlantic.com

"Not only does Mr. French succeed in solving the crime, he resurrects a period that was filled with glitter as well as evil, but was never, as readers will appreciate, known for being dull." – The Economist

"An engrossing read" – Oprah.com

"In today's Beijing, French's portrait feels surprisingly germane." – The Los Angeles Times

"Part historical docudrama, part tragic opera… [French] tells this sorry tale with the skill of an Agatha Christie." – The Financial Times