GOOD NURSE, by Graeber
Thursday, July 18, 7:30 pm
The True Crime Book Group meets on the 3rd Thursday of each month at 7 p.m. The group is led by P&P's Jenny Clines (jclines@politics-prose.com). This group reads about criminal activities, the people behind them, and their victims and survivors. You will enjoy this group if reading and talking about the grisly details of notorious crimes sounds like a fun evening to you.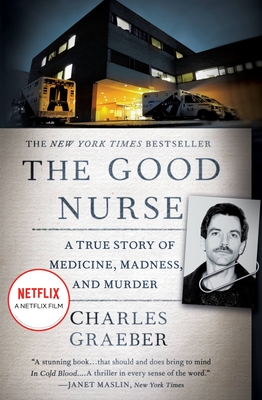 $16.99
Not On Our Shelves—Ships in 1-5 Days
Description
---
"CHILLING." -- Stephen King
An intimate -- and frightening -- glimpse inside the mind of America's most prolific serial killer, Charles Cullen, whose 16-year long "nursing" career left as many as 400 dead.
When nurse Charlie Cullen was arrested in 2003, journalists were quick to dub him "The Angel of Death." But Cullen was neither a mercy killer nor a simple monster. He was a son, a husband, a father, a best friend, and a valued caregiver. He was also implicated in the deaths of as many as 400 people, and may be the most prolific serial killer in American history.

Cullen's career in the world's most trusted profession spanned sixteen years, across nine hospitals. In this riveting work of investigative journalism, Charles Graeber-the only person Cullen chose to speak with following his arrest-reveals how Cullen got away with murder for so long. Based on hundreds of hours of previously unseen and unheard footage, recordings, and records, as well as extensive interviews with homicide detectives, Cullen's friends, family, coworkers, and confidential informants and whistleblowers, plus exclusive, one-on-one interviews with Cullen, himself, THE GOOD NURSE paints a dramatic portrait of madness and the bounds of friendship, and shines a spotlight on America's medical system. A harrowing and irresistibly paced book, you'll never look at a hospital the same way again.
About the Author
---
Charles Graeber is an award winning journalist and contributor to numerous publications including Wired, GQ, The New Yorker, New York Magazine, Vogue, Outside Magazine, Men's Journal, Bloomberg Businessweek, Travel + Leisure, and The New York Times, and an occasional guest on CNN, NPR, and other radio programs. As a former medical student and researcher, his co-authored papers appeared in scientific journals including Kidney International. His work has been honored with prizes including the Overseas Press Club award for outstanding international journalism, the New York Press Club prize for the year's best magazine spot news reportage, several National Magazine Award-nominations, and inclusion in numerous anthologies including The Best American Crime Writing, The Best American Science Writing, The Best American Business Writing and The Best of National Geographic Adventure. Born in Iowa, he now lives in Nantucket, MA and Brooklyn, NY. For more information, you can visit www.CharlesGraeber.com.
Praise For…
---
"Put this one on the shelf next to Ann Rule's classic about Ted Bundy, The Stranger Beside Me - it's that good. Grade: A"—Entertainment Weekly

"A stunning book...that should and does bring to mind In Cold Blood....the story appeals to prurient interests, as does any graphic tale of true crime. But THE GOOD NURSE succeeds in being about much more than Mr. Cullen's murderous kinks. The causes of his pathology are not interesting. But the eagerness of ambitious hospital administrators to cover up his misdeeds is revelatory. And the police investigation that brought him down is a thriller in every sense of that word."—Janet Maslin, New York Times

"The most terrifying book published this year. It is also one of the most thoughtful.... From a long series of conversations with Cullen, the detectives who solved the case and Amy, a nurse who once was Cullen's best friend and eventually got him to confess, among many other sources, Graeber has crafted a book that is a revelation. THE GOOD NURSE is gripping, sad, suspenseful, rhythmic and beautifully documented (the endnotes to this book are impressive)."—Kirkus Reviews

"Graeber doesn't pull punches... A deeply unsettling addition to the true crime genre."—Publishers Weekly

"Riveting"—People

"A standout true-crime book, one that doubles as both a thrilling horror story and a cautionary tale, and frightens and frustrates in equal measure."—The Boston Globe

"Absolutely frightening."—The Detroit News

"Alarming"—CNN.com

"The story is consistently incredible, but credit it you must, for it is the truth... I couldn't put this book down."—PopMatters

"Fascinating and frightening... A scary page turner about one man's quiet reign of terror, those dedicated and brave enough to end it, and the dangers that can lurk in the places we may feel safest. "—BookReporter

"A very scary book. It will reach out and grab you and not let you go. You will forgo food, talking, work, anything just to get to the climactic moment of this true crime story."—Pittsburgh Post-Gazette

"Engrossing...hard-to-put-down.. On one level, The Good Nurse is an absorbing story of a serial killer operating within the walls of what most view as a trusted institution. On another, it's an intriguing detective story. And on another it's an indictment of the hospital industry."—The New Jersey Star-Ledger

"A literary thriller with legs... Meticulously crafted... a book that demonstrates the transportive power of literary journalism while simultaneously helping to restore its credibility."—The Brooklyn Rail

"A remarkable new book...gripping and brilliantly written."—Healthcare Risk Management Review

"A gripping look into a killer's mind...THE GOOD NURSE is as suspenseful as any crime novel."—Milwaukee Journal Sentinel