TALES FROM THE INNER CITY, by Tan
Sunday, March 24, 3:30 pm
The Teen Book Group for teens ages 13–16 meets on the fourth Sunday of the month at 3:30 p.m., downstairs in the Children and Teens Department, to discuss and dissect a book of our choosing.
Have questions? Interested in joining? Email Leah at lmeadvin@politics-prose.com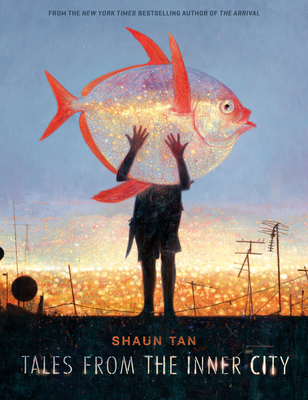 $24.99
In Stock—Click for Locations
Description
---
Tales from the Inner City is a collection of incredibly original stories, rich with feeling, strangely moving, almost numinous. And when the reader comes to the artwork, it's like walking into an amazing room, and then throwing open a curtain to see a brilliant scene that makes you understand and appreciate everything you've encountered in a deeper way.
About the Author
---
Shaun Tan is the New York Times bestselling author of The Arrival, Tales from Outer Suburbia, Tales from the Inner City, Rules of Summer, and The Singing Bones. He received the Astrid Lindgren Memorial Award in 2011 and won an Academy Award for the adaptation of his picture book The Lost Thing (from Lost & Found: Three by Shaun Tan). Shaun lives in Melbourne, Australia.
Praise For…
---
Praise for Tales from the Inner City

* "The paintings . . . are characterized by layers of glorious color, shadowy corners, dazzling luminosity, surreal situations, and ethereal beauty. They invite lingering . . . Read and reread slowly, savoring every nugget." -- Kirkus Reviews, starred review


Praise for The Arrival

A New York Times Best Illustrated Book

* "Filled with both subtlety and grandeur, the book is a unique work that not only fulfills but also expands the potential of its form." -- Booklist, starred review

* "An unashamed paean to the immigrant's spirit, tenacity and guts, perfectly crafted for maximum effect." -- Kirkus Reviews, starred review

* "Few will remain unaffected by this timeless stunner." -- Publishers Weekly, starred review


Praise for Tales from Outer Suburbia

A New York Times Best Illustrated Book

* "The thoughtful and engaged reader will take from these stories an experience as deep and profound as with anything he has ever read." -- Booklist, starred review

* "Graphic-novel and text enthusiasts alike will be drawn to this breathtaking combination of words and images." -- Kirkus Reviews, starred review

"Tan's work overflows with human warmth and childlike wonder." -- New York Times


Praise for Lost & Found: Three by Shaun Tan

* "These stories representing the visionary work of a master storyteller, illustrator, and designer who cares deeply about his message deserve a place in almost every collection." -- Booklist, starred review

"Shaun Tan rocks my retinas... The book is gorgeously designed, the stories are evocative and mysterious, and every page of Tan's paintings -- I can't bring myself to call them mere illustrations -- commands long moments of study." -- Cleveland Plain Dealer


Praise for The Bird King: An Artist's Notebook

* "The sharing of unfinished work is a generous gesture, and the collection is a treasure trove for any young artist who wants to know more about how ideas are captured on paper." -- Publishers Weekly, starred review

* "Unmistakable are his flawless craftsmanship, his organically industrial yet timeless aesthetic, and his lyrically haunting style and tone... A powerful springboard for the imagination." -- Booklist, starred review


Praise for Rules of Summer
* "As always, the swirl of emotion that Tan's artwork kicks up lingers long after the book is closed." -- Publishers Weekly, starred review
* "Sumptuous and sincere -- this title is a winner." -- School Library Journal, starred review


Praise for The Singing Bones

"[Tan's] starkly lit sculptures... have a look reminiscent of Inuit art; they appear simplified and smoothed by many hands. Their scale is hard to gauge. They seem simultaneously monumental and small enough to tuck in a pocket, like Japanese netsuke." -- New York Times Book Review

* "Although readers can only see Tan's remarkable artistry in two dimensions, the figures exert an almost primal force. Rather than simply represent what happens in these stories, these pieces embody their power." -- Publishers Weekly, starred review
Praise for The Arrival

A New York Times Best Illustrated Book

* "Filled with both subtlety and grandeur, the book is a unique work that not only fulfills but also expands the potential of its form." -- Booklist, starred review

* "An unashamed paean to the immigrant's spirit, tenacity and guts, perfectly crafted for maximum effect." -- Kirkus Reviews, starred review

* "Few will remain unaffected by this timeless stunner." -- Publishers Weekly, starred review


Praise for Tales from Outer Suburbia

A New York Times Best Illustrated Book

* "The thoughtful and engaged reader will take from these stories an experience as deep and profound as with anything he has ever read." -- Booklist, starred review

* "Graphic-novel and text enthusiasts alike will be drawn to this breathtaking combination of words and images." -- Kirkus Reviews, starred review

"Tan's work overflows with human warmth and childlike wonder." -- New York Times


Praise for Lost & Found: Three by Shaun Tan

* "These stories representing the visionary work of a master storyteller, illustrator, and designer who cares deeply about his message deserve a place in almost every collection." -- Booklist, starred review

"Shaun Tan rocks my retinas... The book is gorgeously designed, the stories are evocative and mysterious, and every page of Tan's paintings -- I can't bring myself to call them mere illustrations -- commands long moments of study." -- Cleveland Plain Dealer


Praise for The Bird King: An Artist's Notebook

* "The sharing of unfinished work is a generous gesture, and the collection is a treasure trove for any young artist who wants to know more about how ideas are captured on paper." -- Publishers Weekly, starred review

* "Unmistakable are his flawless craftsmanship, his organically industrial yet timeless aesthetic, and his lyrically haunting style and tone... A powerful springboard for the imagination." -- Booklist, starred review


Praise for Rules of Summer
* "As always, the swirl of emotion that Tan's artwork kicks up lingers long after the book is closed." -- Publishers Weekly, starred review
* "Sumptuous and sincere -- this title is a winner." -- School Library Journal, starred review


Praise for The Singing Bones

"[Tan's] starkly lit sculptures... have a look reminiscent of Inuit art; they appear simplified and smoothed by many hands. Their scale is hard to gauge. They seem simultaneously monumental and small enough to tuck in a pocket, like Japanese netsuke." -- New York Times Book Review

* "Although readers can only see Tan's remarkable artistry in two dimensions, the figures exert an almost primal force. Rather than simply represent what happens in these stories, these pieces embody their power." -- Publishers Weekly, starred review