THE PRETTY ONE, by Brown
A Seat at the Table at Union Market
Sunday, September 15, 3:30 pm
Join P&P bookseller Morgan at P&P at Union Market, Third Sunday of each month at 3:30 p.m to explore the depth of black women within literature. Taking its name from the famous Shirley Chisholm quote "If they don't give you a seat at the table, bring a folding chair," this group is for anyone and everyone who wants to read the works of black women across genre lines.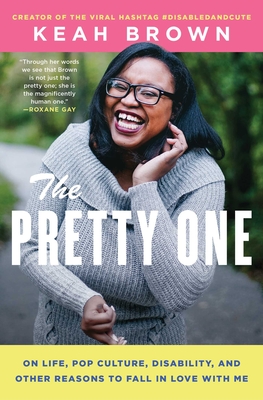 $17.00
In Stock—Click for Locations
Description
---
From the disability rights advocate and creator of the #DisabledAndCute viral campaign, a thoughtful, inspiring, and charming collection of essays exploring what it means to be black and disabled in a mostly able-bodied white America.

Keah Brown loves herself, but that hadn't always been the case. Born with cerebral palsy, her greatest desire used to be normalcy and refuge from the steady stream of self-hate society strengthened inside her. But after years of introspection and reaching out to others in her community, she has reclaimed herself and changed her perspective.

In The Pretty One, Brown gives a contemporary and relatable voice to the disabled—so often portrayed as mute, weak, or isolated. With clear, fresh, and light-hearted prose, these essays explore everything from her relationship with her able-bodied identical twin (called "the pretty one" by friends) to navigating romance; her deep affinity for all things pop culture—and her disappointment with the media's distorted view of disability; and her declaration of self-love with the viral hashtag #DisabledAndCute.

By "smashing stigmas, empowering her community, and celebrating herself" (Teen Vogue), Brown and The Pretty One aims to expand the conversation about disability and inspire self-love for people of all backgrounds.
About the Author
---
Keah Brown is a journalist, freelance writer, and activist. She has written about living with cerebral palsy in Teen Vogue, Essence, Catapult, Glamour, Harper's Bazaar, and other publications. She holds a bachelor's degree in journalism from the State University of New York at Fredonia and she has a love for popular culture and cheesecake. She lives in New York with her family.
Praise For…
---
"Representation matters—and as a Black woman with a physical disability, Keah Brown offers a refreshing narrative from several intersecting communities whose stories have historically been overlooked. But the most important label she sports is writer—and her honest essays force those of us who are able-bodied and white and privileged in a host of different ways to confront our own biases and behaviors about disability, to walk in her shoes for a few hundred pages (resting when necessary!), and ultimately to celebrate her compelling voice. The Pretty One is a game-changer." —Jodi Picoult, New York Times bestselling author of Small Great Things and A Spark of Light

"This inspiring collection introduces a charming and meditative new voice. Keah Brown's THE PRETTY ONE is a welcome addition to the conversation on self-love." —Deepak Chopra

"Keah Brown doesn't want you to feel sorry for her; she wants something far more complex, and far funnier. With her passion, humor and keen insight into the politics of living in a body often deemed 'other' or 'less than,' Keah shows us that despite the challenges she is dealt, she is true 'goals.' I stan." —Lena Dunham

"Keah Brown is a force to be reckoned with, and The Pretty One is a soaring debut that marks her introduction to the literary world. Her writings about love, disability, chairs she has loved, and more uniquely declare the following: get ready to feel all the feelings, for here is an important new voice." —Esmé Weijun Wang, New York Times bestselling author of The Collected Schizophrenias and The Border of Paradise

"What does it mean to live at the intersections of blackness, womanhood, and disability? In her admirable debut, The Pretty One, Keah Brown answers this question with heart, charm, and humor. Across twelve finely-crafted essays, Brown explores the matter of representation in popular culture, the vulnerability of facing self-loathing and learning to love herself, the challenge of repairing fractured relationships with family, the yearning for romantic love. Through her words we see that Brown is not just the pretty one; she is the magnificently human one." —Roxane Gay

"In her candid memoir, author Keah Brown comes across as an affable seatmate on a long flight. Her writing is comfortable, conversational, and woven with ribbons of hard-earned self-awareness. . . . There is humor and heart here, as one might correctly expect coming from the creator of the viral #disabledandcute hashtag." —Bust

"By collaging pop cultural dictums alongside experiences of physical pain and encounters with the world's disregard for her disabled body, Brown presents herself for what she is—a radical amalgam of vulnerable girlishness and wizened strength….VERDICT Readers with lives like Brown's will find solace in this debut; others will be similarly moved by her honesty and carbonated wit."—Library Journal

"The cultural narrative surrounding disability has long been overdue for a complete overhaul, and in her debut book, The Pretty One, Keah Brown offers her refreshing, joyful voice to this movement." —The Millions

"Witty and insightful…This book would be a great choice for anyone interested in social justice, disability rights, or just interested in learning more about a fun, funny, beautiful woman." —Booklist

"Brown delivers insights in a refreshing and entertaining way." —Washington Post

"A hopeful, relatable memoir about a twenty-something just trying to figure out the world and her place in it." —Bustle

"Necessary reading." —HelloGiggles

"Her essays on romance, mental health and pop culture challenges our misperceptions about disability and encourages us to read experiences outside of a White and able-bodied dominant culture." —Colorlines

"Encouraging and refreshing." —Ibram X. Kendi, The Atlantic