SEVERANCE, by Ma
Thursday, June 13, 7:30 pm
The Fantasy and Science Fiction Book Group meets the second Thursday of every month at 6:30 p.m. in the Den Coffeehouse to discuss the fantasy selection, and at 7:30 p.m., same place, to discuss the sci-fi book for that month.
The books we've read have ranged from Military Science Fiction like "The Forever War" by Joe Haldeman to classics like "Foundation" by Isaac Asimov or "A Wrinkle in Time" by Madeline L'Engle. We don't always choose the best books. In fact, some of our best discussions have been about the ones we all passionately hate. We pick a bunch of books to vote on and then select 5-6 for the upcoming months.
If you are interested in meeting some geeky people who like Science Fiction (and Fantasy), by all means drop by! No RSVP needed. Any questions, shoot me an email at abogomazov@politics-prose.com
- Anton Bogomazov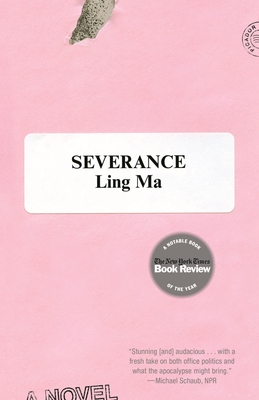 $17.00
In Stock—Click for Locations
September 2018 Indie Next List
---
"Candace Chen is a first-generation Chinese millennial immigrant who tries to make a life in New York City by succumbing to the role of the office drone who helps create cheap bibles. But when Shen Fever—a plague that causes its victims to perform a rote task until death—hits, only a few survive, including Candace. She soon finds herself in a cult-like band of other survivors heading to the Midwest while also trying to come to terms with her past and the unknowns of her future. With dark humor, sharp intelligence, and compassion, Ling Ma has written a well-constructed, biting satire of capitalism and a moving glimpse into the roles of memory, place, and identity in a life."
— Kelsey Westenberg, The Dial Bookshop, Chicago, IL
Description
---
Winner of the NYPL Young Lions Prize, Winner of the Kirkus Prize, A PEN/Hemingway Finalist, A New York Times Notable Book of 2018, An Indie Next Selection
A Best Book of 2018 at Elle, Marie Claire, Refinery29, Bustle, Buzzfeed, BookPage, Bookish, Mental Floss, Chicago Review of Books, HuffPost, Electric Literature, Amazon Editors', A.V. Club, Jezebel, Vulture
"A fierce debut from a writer with seemingly boundless imagination. . . A stunning, audacious book with a fresh take on both office politics and what the apocalypse might bring." —Michael Schaub, NPR.org
Maybe it's the end of the world, but not for Candace Chen, a millennial, first-generation American and office drone meandering her way into adulthood in Ling Ma's offbeat, wryly funny, apocalyptic satire, Severance.
Candace Chen, a millennial drone self-sequestered in a Manhattan office tower, is devoted to routine. With the recent passing of her Chinese immigrant parents, she's had her fill of uncertainty. She's content just to carry on: She goes to work, troubleshoots the teen-targeted Gemstone Bible, watches movies in a Greenpoint basement with her boyfriend.
So Candace barely notices when a plague of biblical proportions sweeps New York. Then Shen Fever spreads. Families flee. Companies cease operations. The subways screech to a halt. Her bosses enlist her as part of a dwindling skeleton crew with a big end-date payoff. Soon entirely alone, still unfevered, she photographs the eerie, abandoned city as the anonymous blogger NY Ghost.
Candace won't be able to make it on her own forever, though. Enter a group of survivors, led by the power-hungry IT tech Bob. They're traveling to a place called the Facility, where, Bob promises, they will have everything they need to start society anew. But Candace is carrying a secret she knows Bob will exploit. Should she escape from her rescuers?
A send-up and takedown of the rituals, routines, and missed opportunities of contemporary life, Ling Ma's Severance is a moving family story, a quirky coming-of-adulthood tale, and a hilarious, deadpan satire. Most important, it's a heartfelt tribute to the connections that drive us to do more than survive.
About the Author
---
Ling Ma received her MFA from Cornell University. Prior to graduate school she worked as a journalist and editor. Her writing has appeared in Granta, Vice, Playboy, Chicago Reader, Ninth Letter and elsewhere. A chapter of Severance received the 2015 Graywolf SLS Prize. She lives in Chicago.
Praise For…
---
Winner of the 2019 NYPL Young Lions Fiction Award
Winner of the 2018 Kirkus Prize for Fiction
Winner of the 2019 VCU Cabell First Novelist Award
Winner of the 2019 Friends of American Writers First Prize in Literature
Finalist for the 2019 PEN/Hemingway Award for Debut Novel
Shortlisted for the 2019 Neukom Institute Literary Arts Award for Debut Speculative Fiction
A New York Times Notable Book of 2018
An Elle Best Book of 2018
A Marie Claire Best Book of 2018
A Buzzfeed Best Book of 2018
A Refinery29 Best Book of 2018
A Jezebel Favorite Book of 2018
A Bustle Best Book of 2018
An Electric Lit Best Novel of 2018
A Lit Hub Best Book of 2018
A BookPage Best Book of 2018
A Bookish Best Book of 2018
A Mental Floss Best Book of 2018
A Chicago Review of BooksBest Book of 2018
A HuffPost Best Fiction Book of 2018
An Electric Literature Best Book of 2018
An A.V. Club Favorite Book of 2018
A Jezebel Favorite Book of 2018
A Vulture Best Science Fiction and Fantasy Book of 2018
Longlisted for the Aspen Words Prize
A Book of the Month Club Selection for December 2018
Shortlisted for the 2018 Chicago Review of Books Award
New York Magazine Approval Matrix, "Highbrow Brilliant"
An Indie Next Great Reads Selection
A Southern Living Best New Book of Summer 2018
A Millions Most Anticipated Book of 2018
An Alma Favorite Book for Fall
A Nylon Best Book of Summer 2018
A Chicago Magazine Summer Reading Pick
A Library Journal Summer Fall Best Debut Novel
An April Magazine Most Anticipated Book of 2018
A BookBub Laugh-Out-Loud Book of 2018
A Library Journal Debut With Credentials
A Refinery29 Best New Book of August 2018
A Greenlight Bookstore Pick in Brooklyn Paper
"Severance is the most gorgeously written novel I've read all year; when I finished it, I immediately picked it up and read it all over again." —Jane Hu, The New Republic
"Severance is the best work of fiction I've read yet about the millennial condition—the alienation and cruelty that comes with being a functional person under advanced global capitalism, and the compromised pleasures and irreducibly personal meaning to be found in claiming some stability in a terrible world. I love how, in this novel, doom is inevitable, and yet it comes so slowly you might not even notice it. Ling Ma has written one of my favorite novels of the year." —Jia Tolentino, New Yorker staff writer
"A satirical spin on the end times—kind of like The Office meets The Leftovers." —Estelle Tang, Elle
"[A] standout debut. Satiric and playful—as well as scary . . . Ling Ma is an assured and inventive storyteller [and her novel] reflects on the nature of human identity and how much the repetitive tasks we perform come to define who we are. . . . A sardonic wake-up call." —Maureen Corrigan, Fresh Air, National Public Radio
"[A] semi-surreal sendup of a workplace and its utopia of rules, not unlike Joshua Ferris's Then We Came to the End . . . Laced within Ma's dystopian narrative is an arresting encapsulation of a first-generation immigrant's nostalgia for New York . . . Severance evokes traces of . . . Joan Didion." —Antonia Hitchens, The New York Times Book Review
"How do you fit a zombie novel inside an immigrant story inside a coming-of-age tale? Ling Ma . . . accomplished this feat in her gripping and original turducken of a novel . . . Fascinating." —Trine Tsouderos, The Chicago Tribune
"Ma's prose is, for the most part, understated and restrained, somewhat in the manner of Kazuo Ishiguro . . . Ma is at her most deft when depicting this kind of severance: the amputation of the immigrant's past, preserved like a phantom limb whose pain is haunted with absence." —Jiayang Fan, The New Yorker
"Gorgeously wacky." —Hillary Kelly, Vulture
"Tense and elegant, Ma's writing here masterfully treads the line between genre fiction and literature. Part bildungsroman, part horror flick, Severance thrillingly morphs into a novel about self-worth, about the kinds of value we place on our own lives." —Larissa Pham, The Nation
"Ling Ma's extraordinary debut encompasses many genres and might just be the first and only coming-of-age, immigrant experience, anti-capitalist zombie novel you'll ever need." —The Cut
"Ma's writing about the jargon of globalized capitalism has a mix of humor and pathos that reminded me a little of Infinite Jest and a little of George Saunders." —Emily Witt, The New Yorker
"I recommend [Severance] unreservedly: it's perfect for when you're living in that space between "oh shit, what if the world ends" and "oh shit, what if the world doesn't end"—and truly, who isn't living in that space right now?" —Katie Yee, Lit Hub
"Ling Ma's Severance . . . sneaks up on you from all sides: it's an affecting portrayal of loss, a precise fictional evocation of group dynamics, and a sharp character study of its protagonist, Candace Chen." —Tobias Carroll, Tor.com
"Ling Ma delivers a fascinating coming-of-age novel, one full of millennial culture, post-apocalyptic adventures, and, perhaps most exciting of all, a zombie-like populace . . . Severance wonderfully demonstrates how the lifestyles we lead now can have a great impact on our future." —M. M. Silva, Zyzzyva
"Shocking and ferocious . . . a fierce debut from a writer with seemingly boundless imagination. . . a wicked satire of consumerism and work culture . . . It's a stunning, audacious book with a fresh take on both office politics and what the apocalypse might bring: This is the way the world ends, Ma seems to be saying, not with a bang but a memo." —Michael Schaub, NPR.org
"A suspenseful adventure that doubles as a sly critique of late capitalism." —Boris Kachka, Vulture

"Funny, frightening, and touching.... Ling Ma manages the impressive trick of delivering a bildungsroman, a survival tale, and satire of late capitalist millennial angst in one book, and Severance announces its author as a supremely talented writer to watch." —The Millions
"As debut novels go, Severance is about as original and assured as they come." —Laura Pearson, The Chicago Tribune
"If satirist Gary Shteyngart wrote his version of 2015 end-of-world breakout Station Eleven, it would be this compulsively readable book." —Mind Body Green
"Ling Ma's debut novel tackles countless themes—immigration, work culture, family, capitalism, and the confusing aimlessness of your early 20s—with a dry wit that keeps the horrific digestible, the repetitive laughable, and the pages turning." —Marie Claire
"Astounding . . . Ma's engrossing, masterfully written debut transforms the mundane into a landscape of tricky memory, where questions of late-stage capitalism, immigration, displacement and motherhood converge in such a sly build-up as to render the reader completely stunned." —BookPage
"Ling Ma's debut novel is a weird and funny story that melds an end-of-the-world collapse of civilization with a sharp critique of modern work culture, along with a dose of meditation on grief and the immigrant experience." —Chris Kim, OZY
"A brilliantly unsettling dystopian novel following a young woman who somehow escapes a fever epidemic and joins a cult-like group of fellow survivors." —Bust
"The book I loved most of all in 2018, the queen of the stack (if you will), is Severance . . . It's I Am Legend for the plugged-in, globally conscious, thinking woman. I could not be more obsessed." —Siobhan Jones, Book of the Month Club
"Ma's writing is compelling and cogent, perfectly satirizing a world that often feels beyond parody." —Nylon
"[Severance is] a book about work that puts the work in the context of globalization, a book that is mordant and sad and full of quicksilver allegories. I loved that book so much." —Lydia Kiesling, The Millions
"Ma's language does so much in this book, and its precision, its purposeful specificity, implicates an entire generation. But what is most remarkable is the gentleness with which Ma describes those working within the capital-S System. What does it mean if a person finds true comfort working as a 'cog' in a system they disagree with? Is that comfort any less real?" —Buzzfeed
"What Ma accomplishes with her fever-stricken world is what sets Severance apart. Rather than take the end of days as a chance for the usual pontifications on societal collapse—most seemingly ignorant that we built society from nothing the first time, and we would certainly do it again—Ma uses the disaster trope for interrogation on a scale small enough to lacerate." —B. David Zarley, Paste
"A satiric vision that takes in late capitalism, the immigrant experience, and the anomie of early adulthood." —Library of America
"With exquisite pacing, Ling Ma alternates between Candace's precarious present and her childhood as the daughter of Chinese immigrants, and contemplates the possibility of a future in a lonely, blasted world. Severance is a scathing portrait of a society collapsing under its own ungovernable appetites, as well as a haunting meditation on family inheritance and its loss." —Claire Fallon, Huffington Post
"Severance meets and exceeds the promise of [its] exciting description. In many ways, Severance is a novel of ideas—it artfully blends/bends genre, it boldly indicts global capitalism, consumerism, and materialism—but every one of its intellectual aims is deeply grounded in the richly felt experiences of the narrator. —Joseph Scapellato, Electric Lit
"For readers who love their literary fiction with a dash of apocalypse, this one's for you." —Bookish
"Severance shares as much with Then We Came To The End, Joshua Ferris' meditation on the failure of an advertising agency, as it does with The Walking Dead; Ma plays with voice, alternating between the first-person singular and plural to show how easily an individual comes to identify as part of a collective and how hard it is to have that group fall apart." —Samantha Nelson, A.V. Club
"Takes the milieu of the film Frances Ha and mixes in a subdued zombie apocalypse. . . A clever and funny novel that depicts modern urban ennui and a speculative post-apocalyptic world equally well, while using its central contagion as a metaphor to critique late capitalism, globalization, and nostalgia." —Matt Stowe, Brooklyn Paper
"I consumed [Severance] like a hungry fungal spore in two days." —Molly Young
"Ma is satiric about the workplace, in a way that's less snobbish than Nell Zink but just as funny and imaginative . . . All the best metaphors in the book are cleverly crafted harbingers . . . Her dexterity in joking about capitalism rivals the skill of the great Richard Powers." —Kaitlin Philips, BookForum
"Listen, are we just suggesting Severance to everyone, because everyone in the office read and loved it? Yes, sure. But also, post-apocalyptic novels are perfect crucibles for imagining what happens when the rules we operate under break down." —Electric Lit
"Ling Ma's novel Severance is an astute combination of workplace novel and apocalyptic tale. Smart and filled with humanity, this debut is one of the year's best books." —Large-Hearted Boy
"This depiction of the Midwest feels unexpectedly of our time, at a moment when coastal nostalgia for the heartland has fixated as much on frontier sentimentalism (prairie dresses, artisanal foods) as it has dead mall videos and ruin porn." —Meghan O'Gieblyn, Lit Hub
"A radically understated debut novel . . . searingly underplayed." —Constance Grady, Vox
"This quirky satire of office culture . . . imagines what would happen to a Chinese American workaholic if Manhattan were hit by a sudden apocalypse." —Chicago Magazine
"Blends two distinct subgenres into a wholly original narrative." —Vol. 1 Brooklyn
"A biting indictment of late-stage capitalism and a chilling vision of what comes after . . . [Ma] knows her craft, and it shows. [Her protagonist] is a wonderful mix of vulnerability, wry humor, and steely strength. . . . Ma also offers lovely meditations on memory and the immigrant experience. Smart, funny, humane, and superbly well-written." —Kirkus, starred review
"Embracing the genre but somehow transcending it, Ma creates a truly engrossing and believable anti-utopian world. Ma's extraordinary debut marks a notable creative jump by playing on the apocalyptic fears many people share today." —Booklist, starred review
"In this shrewd postapocalpytic debut, Ma imagines the end times in the world of late capitalism, marked by comforting, debilitating effects of nostalgia on its characters . . . The novel's strength lies in Ma's accomplished handling of the walking dead conceit to reflect on what constitutes the good life. This is a clever and dextrous debut." —Publishers Weekly
"A smart, searing exposé on the perils of consumerism, Google overload, and millennial malaise . . . an already established audience will be eager to discover this work." —Library Journal