EMPIRES by Balaban NOTE: Meeting Online
Tuesday, September 28, 7:30 pm
The Poetry Book Group is led by Gwenn Gebhard and meets online the 4th Tuesday of each month at 7:30 p.m. Please contact bookgroups@politics-prose for information to join.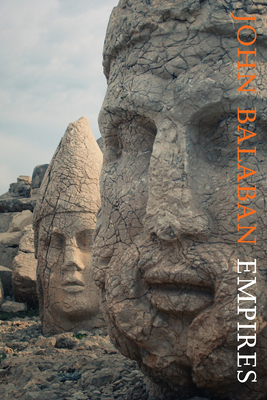 $17.00

Special Order—Subject to Availability
Description
---
Balaban has long been one of our finest poetic craftsmen working in the lyric mode. In his latest collection, Empires, Balaban once again demonstrates why he is celebrated as a major American poet. --War, Literature, and the Arts John Balaban's Empires is an elegant addition to this distinguished poet's body of work, and will surely be remembered as one of the indispensable poetry publications of its decade.--Literary Matters John Balaban's sixth collection of poetry considers America in its innate beauty and complex ugliness, in its powerfully healing landscapes and its destructive misadventures. With a compelling lyricism and cinematic imagery, Empires showcases the pervasiveness of the human spirit across a diverse cast of characters, both modern and ancient. From the rubble of the World Trade Center to Washington's troops crossing the Potomac to powerful insights into the Vietnam War, Balaban's genius is in connecting the dots of history. Despite the destruction and persecution associated with empires, Balaban illuminates the often overlooked transcendent hope available through poetry, music, and an unwavering connection to the land. Through heart warming elegies, gripping narratives and new translations from several Romanian poets, Balaban's poems shine a redemptive light amidst the darkness and chaos of changing empires. "In a way that few poets do, John Balaban truly roams the globe--and the centuries. He has his eye on empires, yes, but also on moments when different slices of history collide... His capacious poems enlarge our eyes on the world." --Adam Hochschild "In these poems, John Balaban plumbs the recent and ancient past. His generous spirit and technical brilliance cast a very bright light. Empires is luminous work." --Elizabeth Farnsworth.