TOLL, by Priest
Sunday, April 26, 11:30 am
Are a you a fan of scary reads? Are you worried that something wicked this way comes? Do you get excited by the antics of ghosts, goblins, and things that go bump in the night? Oh! the Horror! book group is for you. On the last Sunday of the month this group meets at Politics and Prose Union Market. Oh! the Horror! is led by P&P Union Market's Molly Harbage (union@politics-prose.com).
This group meets at Union Market on the last Sunday of every month.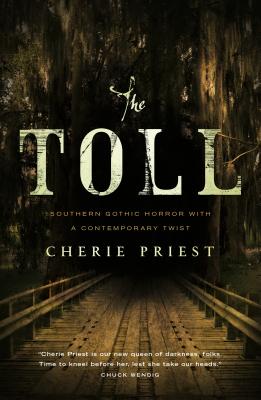 $16.99
In Stock—Click for Locations
Description
---
From Cherie Priest, the author of The Family Plot and Maplecroft, comes The Toll, a tense, dark, and scary treat for modern fans of the traditionally strange and macabre.

The Verge—New Science Fiction and Fantasy Books for July
Lit Reactor—Most Anticipated Horror Books of 2019

Take a road trip into a Southern gothic horror novel.
Titus and Melanie Bell are on their honeymoon and have reservations in the Okefenokee Swamp cabins for a canoeing trip. But shortly before they reach their destination, the road narrows into a rickety bridge with old stone pilings, with room for only one car.
Much later, Titus wakes up lying in the middle of the road, no bridge in sight. Melanie is missing. When he calls the police, they tell him there is no such bridge on Route 177 . . .
About the Author
---
Cherie Priest debuted to great acclaim with Four and Twenty Blackbirds, Wings to the Kingdom, and Not Flesh Nor Feathers, a trilogy of Southern Gothic ghost stories featuring heroine Eden Moore. She is also the author of Fathom, Dreadnought, and Boneshaker, which was nominated for a Nebula and Hugo Award and won the PNBA Award and the Locus Award for best science-fiction novel. She is an associate editor at Subterranean Press. Born in Tampa, Florida, Priest went to college at Southern Adventist University and earned her master's in rhetoric at the University of Tennessee. After spending most of her life in the southern United States, she recently moved to Seattle, Washington, with her husband, Aric, and a fat black cat named Spain.
Praise For…
---
Praise for The Toll

"A masterpiece of disquieted tension."—New York Journal of Books

Praise for The Family Plot
"Priest has written an excellent modern house story from start to finish." —Publishers Weekly, stared & boxed review
"Highly recommended." —Booklist, starred review
Praise for Cherie Priest
"Cherie Priest is our new queen of darkness, folks. Time to kneel before her, lest she take our heads." —Chuck Wendig
"With Maplecroft, Cherie Priest delivers her most terrifying vision yet—a genuinely scary, deliciously claustrophobic, and dreadfully captivating historical thriller with both heart and cosmic horror. A mesmerizing absolute must-read." —Brian Keene
"One of the best Lovecraftian stories I've ever read."—io9 on Maplecroft
"There are few writers I'd rather have keep me up half the night than Cherie Priest." —John Scalzi