THE LONEY, by Hurley
Sunday, June 23, 11:30 am
Are a you a fan of scary reads? Are you worried that something wicked this way comes? Do you get excited by the antics of ghosts, goblins, and things that go bump in the night? Oh! the Horror! book group is for you. On the last Sunday of the month this group meets at Politics and Prose Union Market. Oh! the Horror! is led by P&P Union Market's Molly Harbage (union@politics-prose.com).
This group meets at Union Market on the last Sunday of every month.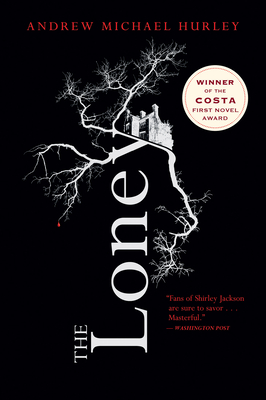 $14.99
In Stock—Click for Locations
Description
---
Winner of the Costa First Novel Award 
A Best Book of the Year, London Times and Daily Mail
An Exceptional Novel, Sunday Times
Best Book of the Year, British Book Industry Awards
A Best Summer Book, Publishers Weekly
 
"The terrors of this novel feel timeless . . . There are abominations here, and miracles."—New York Times Book Review
 
"An amazing piece of fiction."—Stephen King
 
"Completely terrifying."—Paula Hawkins

"Vibrantly written." —Entertainment Weekly

"Stunning" —Jeff VanderMeer
 
When Smith was a boy, he and his family went on an Easter pilgrimage with their local parish to the Loney, a bleak stretch of the English coastline, to visit an ancient shrine, in search of healing for Smith's disabled brother. But the locals were none too pleased to welcome them, and the two brothers soon became entangled in a troubling morass of dangerous rituals. For years after, Smith carries the burden of what happened that spring. And when he hears that the body of a young child has been found during a storm at the Loney, he's forced to reckon with his darkest secrets, no matter the cost. "The masterpiece by which Hurley will enter the Guild of the Gothic" (Guardian), The Loney marks the arrival of a remarkable new talent.
 
"Fans of Shirley Jackson are sure to savor . . . Tight, suspenseful writing makes this masterful novel unsettling in the most compelling way."—Washington Post
 

 
About the Author
---
ANDREW MICHAEL HURLEY lives in Lancashire, where he teaches English literature and creative writing. He has published two short story collections. His first novel, The Loney, won the Costa First Book Award, was short-listed for the James Herbert Award, and was published in twenty territories.
Praise For…
---
Winner of the Costa First Novel Award
A Sunday Times Exceptional Novel of 2015
A Best Book of 2015 by the Times and the Daily Mail
 
"It's not just good, it's great. An amazing piece of fiction." —Stephen King

"THE LONEY by Britain's Andrew Michael Hurley likewise deals with the impact of damaged children on family life. During Easter Week, a deeply Catholic family travels to a distant shrine on the English coast, hoping to find a miracle cure for their mute older son. Miracles, they discover, do exist, but always at a cost. It's hard to believe that this mysterious, richly atmospheric book is a first novel."—Washington Post, "Horror novels are having a renaissance. Here's what to read."

"A palpable pall of menace hangs over British author Hurley's thrilling first novel, narrated by a London boy, "Tonto" Smith, whose affectionate nickname was bestowed by a parish priest who likened himself to the Lone Ranger. Tonto and his family undertake an Easter pilgrimage to the Moorings, a house overlooking a treacherous swath of tide-swept Cumbrian coast known as the Loney. Smith's devoutly Catholic mother hopes that taking the waters at the nearby shrine will cure his older brother, Hanny, of his lifelong muteness. But the Cumbrian landscape seems anything but godly: nature frequently manifests in its rawest state and the secretive locals seem beholden to primitive rites and traditions that mock the religious piety of the visitors. Adding to the mystery is Coldbarrow, a spit of land turned twice daily by the tides into an island, where a man, a woman, and a pregnant teenage girl have taken refuge in a gloomy house named Thessaly. Hurley (Cages and Other Stories) tantalizes the reader by keeping explanations for what is happening just out of reach, and depicting a natural world beyond understanding. His sensitive portrayal of Tonto and Hanny's relationship and his insights into religious belief and faith give this eerie tale depth and gravity." —Publishers Weekly, starred review
 
"When a landslide during a winter storm reveals the body of an infant, the desolate Lancashire coastline known as the Loney is in the news, and the narrator called Smith realizes he must tell the story of his past there. Thirty years earlier Smith's family and other church members undertook an Easter pilgrimage to an old shrine in order to "heal" his mute brother Hanny and reconvene with God. However, the adventure was one of clashing attitudes, strange locals, loud noises in the night, hidden locked rooms, and miracles that may not have been God's will at all. First-time novelist Hurley weaves an intricate story of dark mystery and unwavering brotherly love that lends itself to many rereads. The characterizations are superb; even the Loney becomes a distinct character as it seems the place, not the people, is to blame for the bizarre happenings. Also, while religion plays a major role, the reference is more an observation of traditions. VERDICT: This eerily atmospheric and engrossing novel will captivate readers who like their fiction with a touch of the gothic." —Library Journal, editor's pick
 
"The Loney is one of the best novels I've read in years. From the very first page, I knew I was in the hands of a master. Atmospheric, psychologically astute, and saturated with the kind of electrifying wrongness that makes for pleasurably sleepless nights." —Kelly Link, author ofGet in Trouble
 
"The Loney is a stunning novel—about faith, the uncanny, strange rituals, and the oddity of human experience. Beautifully written, it's immensely entertaining, but also deep and wide. A moving evocation of desolate wilderness and a marvel of complex characterization, The Loney is one of my favorite reads of the past couple of years." —Jeff VanderMeer, New York Times best-selling author of the Southern Reach trilogy
 
"Here is the masterpiece by which Hurley must enter the Guild of the Gothic: it pleases me to think of his name written on some parchment scroll, alongside those of Walpole, Du Maurier, Maturin and Jackson." —Guardian
 
"Astonishing . . . Beautifully literary and absolutely horrific." —Times Literary Supplement
 
"A masterful excursion into terror." —Sunday Times
 
"Modern classics in this genre are rare, and instant ones even rarer; The Loney, however, looks as though it may be both." —Sunday Telegraph
 
"Enigmatic and distinctly unsettling . . . The Loney's power lies in all that Hurley dares to leave out. This is a novel of the unsaid, the implied, the barely grasped or understood, crammed with dark holes and blurry spaces that your imagination feels compelled to fill. It takes both confidence and talent to write like this and it leaves you wanting more of whatever slice of darkness Hurley might choose to dish up next." —Julie Meyerson, Observer
 
"An extraordinarily haunted and haunting novel, arrestingly in command of its unique spot in the landscape." —Telegraph
 
"A tale of suspense that sucks you in and pulls you under. As yarns go, it rips." —New Statesman
 
"Bone-chilling, poetic writing." —Times
 
"Nuanced, deliberate and building insensibly from a murmur to a shriek. The Loney is an unforgettable addition to the ranks of the best British horror."—Metro, five-star review
 
"An eerie, disturbing read that doesn't let up until its surprise ending." —Daily Mail