KILL CREEK, by Thomas
Are a you a fan of scary reads? Are you worried that something wicked this way comes? Do you get excited by the antics of ghosts, goblins, and things that go bump in the night? Oh! the Horror! book group is for you. On the last Sunday of the month this group meets at Politics and Prose Union Market. Oh! the Horror! is led by P&P Union Market's Molly Harbage (union@politics-prose.com).
This group meets at Union Market on the last Sunday of every month.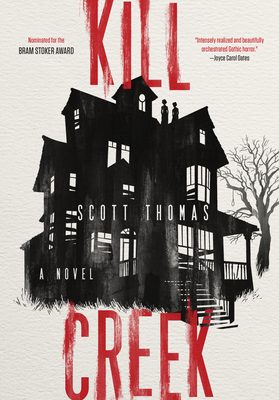 $15.99
In Stock—Click for Locations
Description
---
"I've only dared to read it in the daylight." --Kaly Soto, Deputy Weekend Editor, the New York Times Book Review At the end of a dark prairie road, nearly forgotten in the Kansas countryside, is the Finch House. For years it has remained empty, overgrown, abandoned. Soon the door will be opened for the first time in decades. But something is waiting, lurking in the shadows, anxious to meet its new guests... When best-selling horror author Sam McGarver is invited to spend Halloween night in one of the country's most infamous haunted houses, he reluctantly agrees. At least he won't be alone; joining him are three other masters of the macabre, writers who have helped shape modern horror. But what begins as a simple publicity stunt will become a fight for survival. The entity they have awakened will follow them, torment them, threatening to make them a part of the bloody legacy of Kill Creek.