WARRIOR POET, by De Veaux NOTE: Meeting Online
Wednesday, June 10, 7:30 pm
Lez Read meets the 2nd Wednesday of each month at 7:30 p.m. Our first meeting occured on April 13, 2011. We meet in the Den Coffeehouse. Currently, we anticipate reading a wide selection of fiction and non-fiction books on lesbian and queer themes or titles that were written by lesbian or queer-identified writers. Readers should read the book in advance of the meeting so we can have an active and lively discussion! If you have any questions or would like further information about the Lez Read book group online, please contact on Meet-Up.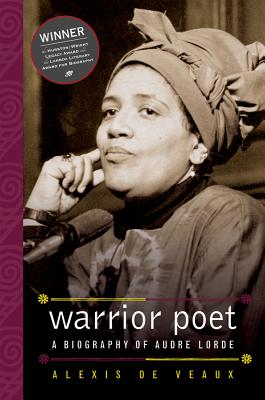 $27.95
Not On Our Shelves—Ships in 1-5 Days
Description
---
Winner of the 2005 Lambda Literary Award, the Hurston/Wright Legacy Award, and the Gustavus Myers Outstanding Book Award: the first and "essential" (Choice) biography of the author, poet, and American icon of womanhood, black arts, and survival.
During her lifetime, Audre Lorde (1934-1992), author of the landmark
Cancer Journals
, created a mythic identity for herself that retains its vitality to this day. Drawing from the private archives of the poet's estate and numerous interviews, Alexis De Veaux demystifies Lorde's iconic status, charting her conservative childhood in Harlem; her early marriage to a white, gay man with whom she had two children; her emergence as an outspoken black feminist lesbian; and her canonization as a seminal poet of American literature.
About the Author
---
Alexis De Veaux teaches at the University of Buffalo (SUNY). She has written for Ms., Essence, and the Village Voice, among other publications.

Praise For…
---
Warrior Poet is a literary event of considerable significance.


A clearly written and extensively researched volume that is every bit as formidable as Lorde herself was, and will likely be regarded as the definitive study of the controversial poet.

De Veaux's thorough tale of a complicated artist is compelling. Lorde comes to life, and her powerful prose is presented in a whole new light.