MY AUTOBIOGRAPHY OF CARSON MCCULLERS, by Shapland NOTE: Meeting Online
Wednesday, November 11, 7:30 pm
Lez Read meets the 2nd Wednesday of each month at 7:30 p.m. Our first meeting occured on April 13, 2011. We meet in the Den Coffeehouse. Currently, we anticipate reading a wide selection of fiction and non-fiction books on lesbian and queer themes or titles that were written by lesbian or queer-identified writers. Readers should read the book in advance of the meeting so we can have an active and lively discussion! If you have any questions or would like further information about the Lez Read book group online, please contact on Meet-Up.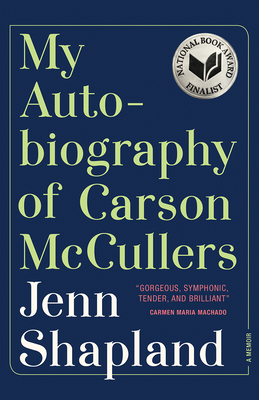 $22.95
In Stock—Click for Locations
February 2020 Indie Next List
---
"This look into the hidden life of Carson McCullers is a brilliant mix of biography and personal memoir. Shapland depicts the life of one of our most beloved and least-known authors in a search for the ultimate meaning of love. It will make you ask yourself difficult questions and delve into the complexities of your own heart. Looking at Carson, Jenn Shapland makes us all vulnerable, more human, more open."
— Pepper Parker, Vintage Books, Vancouver, WA
Description
---
FINALIST FOR THE NATIONAL BOOK AWARD
Longlisted for the Andrew Carnegie Medal for Excellence in Nonfiction
A Most Anticipated Book of the Year at O, The Oprah Magazine; Forbes; Chicago Tribune; Electric Literature; BuzzFeed; Lit Hub; The Millions; and Books Are Magic
How do you tell the real story of someone misremembered—an icon and idol—alongside your own? Jenn Shapland's celebrated debut is both question and answer: an immersive, surprising exploration of one of America's most beloved writers, alongside a genre-defying examination of identity, queerness, memory, obsession, and love.
Shapland is a graduate student when she first uncovers letters written to Carson McCullers by a woman named Annemarie. Though Shapland recognizes herself in the letters, which are intimate and unabashed in their feelings, she does not see McCullers as history has portrayed her. Her curiosity gives way to fixation, not just with this newly discovered side of McCullers's life, but with how we tell queer love stories. Why, Shapland asks, are the stories of women paved over by others' narratives? What happens when constant revision is required of queer women trying to navigate and self-actualize in straight spaces? And what might the tracing of McCullers's life—her history, her secrets, her legacy—reveal to Shapland about herself?
In smart, illuminating prose, Shapland interweaves her own story with McCullers's to create a vital new portrait of one of our nation's greatest literary treasures, and shows us how the writers we love and the stories we tell about ourselves make us who we are.
About the Author
---
Jenn Shapland's work won a 2017 Pushcart Prize and fellowships/residencies at Ucross, the Georgia O'Keeffe Museum, Yaddo, the Carson McCullers Center for Writers and Musicians, and Vermont Studio Center. Her essays have been published in Tin House, THE Magazine, Pastelegram, The Lifted Brow, Electric Literature, NANOfiction, and The Millions. She teaches in the Creative Writing department at the Institute of American Indian Arts and has a PhD in English from UT Austin. She designs and makes clothing for Agnes. She lives in Santa Fe, New Mexico.
Praise For…
---
A moving record of love at the margins.

The kind of state-of-the-form reckoning that makes one wish there were more like it.

Positively breathtaking.

Revelatory.

Stimulating . . . part fan letter, part detective story, and part steely corrective.

A fascinating and intimate examination of the work of archives, research and historic preservation as well as the arc of identity and social construction. . . . [an] idiosyncratic and entirely winning book.

A succinct, thought-provoking exploration of women's sexuality and the language that has been used to describe and limit our desires throughout history.

This book uncovers ways women's queer history has been ignored. It's a personal, powerful, genre-bending account of literary discovery.

Gorgeous, symphonic, tender, and brilliant.
— Carmen Maria Machado, author of In The Dream House

Lucid, distilled, and honest.
— Maggie Nelson, author of The Argonauts

Remarkable. . . . A biography that's also a memoir, a story of obsession and longing.
— R.O. Kwon, author of The Incendiaries

A gorgeous, brilliant book.

Following along with Shapland-as-detective is a delight, and the mystery she sets out to solve is one of those wicked unsolvables: how do we account for the apertures in language, history, and identity?

An intriguing, genre-blending debut.

Mind-bending!
— Emma Straub, Books Are Magic

A beautifully written and hard-to-categorize meditation on Carson McCullers and the hidden literary history of queer women.

A mystery, a love story, a biography, several hearts on the page—I so loved this generous offering.
— Molly Moore, BookPeople

A treatise on seeing yourself in someone else.

An exquisitely rendered map of discovery—of an icon, and of a self.

This book will change the way you think about the truth.

Shapland brings a sharp modern lens to her reading of McCullers' (and her own) life.

Two books in one: an examination of a famous author whose narrative has been posthumously taken away from her, but also a vital memoir of Shapland's own experience as a queer woman looking for stories about people like her.

You do not need to be a queer woman, a lover of Carson McCuller's fiction, or interested in the mysterious junctures between our own lives and those of our favorite artists to love this book, but for those of us who are those things, Jenn Shapland's memoir is a particular trove of delights. My favorite biographies are full of historical literary gossip and interested in the shadow selves of public persons. My favorite memoirs are those that scrutinize the self as an unreliable source of narrative truth and the one we must nonetheless rely upon. My Autobiography of Carson McCullers manages to do all of this in earnest and honest and riveting vignettes. It is a detective story and a dissection of selfhood, a puzzle every piece of which pleased me as it clicked into place.

— Melissa Febos, author of Girlhood