FRESHWATER, by Emezi NOTE: Meeting Online
Wednesday, December 9, 7:30 pm
Lez Read meets the 2nd Wednesday of each month at 7:30 p.m. Our first meeting occured on April 13, 2011. We meet in the Den Coffeehouse. Currently, we anticipate reading a wide selection of fiction and non-fiction books on lesbian and queer themes or titles that were written by lesbian or queer-identified writers. Readers should read the book in advance of the meeting so we can have an active and lively discussion! If you have any questions or would like further information about the Lez Read book group online, please contact on Meet-Up.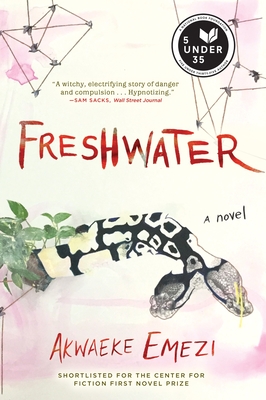 $16.00
In Stock—Click for Locations
February 2018 Indie Next List
---
"A full and arresting examination of the search for a sense of belonging to one's self, Freshwater reads like the result of a successful dinner party hosted by Chimamanda Adichie, with a guest list featuring Octavia Butler, Neil Gaiman, Salman Rushdie, Helen Oyeyemi, and several preeminent cultural and sociological scholars. Freshwater follows Ada, a child born with 'a foot on the other side,' through her early life in Nigeria and her emigration to America, where she is trailed by many forces from the lands she left behind. It gives us new vocabulary and territories for exploring the awkwardness of intersections that we encounter - gender, culture, tradition, history, personal mythology - and how one might go about locating herself in the pull of so many competing influences."
— Sarah Bumstead, Vroman's Bookstore, Pasadena, CA
Winter 2018 Reading Group Indie Next List
---
"As soon as I started this book, I wanted to tell anyone who would listen about it. The story begins with birth—the birth of a Nigerian girl, but also the birth of the children of Gods within her. Told through the perspective of Ada's other selves, Freshwater takes readers on the journey of her life. This is the story of someone born fractured, with 'one foot on the other side.' An incredible, unique, and completely enthralling read. I feel as though no description will truly do this book justice."
— Elisa Thomas, Cellar Door Books, Riverside, CA
Description
---
A National Book Foundation "5 Under 35" Honoree
Finalist for the PEN/Hemingway Award for a Debut Novel
Shortlisted for the Center for Fiction First Novel Prize
A New York Times Notable Book
One of the most highly praised novels of the year, the debut from an astonishing young writer, Freshwater tells the story of Ada, an unusual child who is a source of deep concern to her southern Nigerian family. Young Ada is troubled, prone to violent fits. Born "with one foot on the other side," she begins to develop separate selves within her as she grows into adulthood. And when she travels to America for college, a traumatic event on campus crystallizes the selves into something powerful and potentially dangerous, making Ada fade into the background of her own mind as these alters--now protective, now hedonistic--move into control. Written with stylistic brilliance and based in the author's realities, Freshwater dazzles with ferocious energy and serpentine grace.
About the Author
---
Akwaeke Emezi is an Igbo and Tamil writer and artist based in liminal spaces. Born and raised in Nigeria, they received their MPA from New York University and was awarded a 2015 Miles Morland Writing Scholarship. They won the 2017 Commonwealth Short Story Prize for Africa. Their work has been published in various literary magazines, including Granta. Freshwater is their debut novel.