PEREGRINOS, by Segovia
El club de lectura en español se reúne cada tercer martes del mes a las 7:30 p.m. en Politics and Prose desde hace más de 15 años. El grupo es muy especial en su composición con representantes de los Estados Unidos, y de muchos países latinoamericanos y España, con amplia y variada formación cultural de todas partes del mundo; y una lista de distribución de email de más de 150 personas, actuales participantes y seguidores del grupo desde otros países.
El Club lee literatura latinoamericana contemporánea haciendo énfasis en leer autores que se han formado después del Boom del latinoamericano aunque en ocasiones se incluyen los "monstruos sagrados ". El Club lee novelas, biografías y novelas históricas de autores de casi todos los países latinoamericanos y que abarcan un amplio espectro. No se leen traducciones siendo las únicas excepciones los autores portugueses, brasileros o norte americanos de descendencia latinoamericana.
Hemos disfrutado y comentando más de 60 libros. En tres ocasiones hemos tenido el placer te tener invitados especiales, dos autores, uno boliviano y otro chileno, este último, Roberto Brodsky, con quien tuvimos la oportunidad de comentar Bosque Quemado que habíamos leído para es mes. El tercer invitado fue el curador de la obra de Gabriela Mistral quien estaba de visita en la ciudad y gentilmente accedió a reunirse con nosotros.
Todos están bienvenidos a participar en las charlas y comentarios e intercambio de ideas durante las reuniones de cada mes. Cada sesión es una experiencia única y cada reunión brinda la oportunidad de tener un mejor entendimiento de la obra leída y escuchar otros puntos de vista.
Spanish Language Bookgroup
The Spanish Book Club was established over five years ago and has been meeting regularly every third Tuesday of the month at 7:30 p.m. at Politics and Prose on the lower level by the coffee shop. Our group is culturally diverse with members from Latin America, Spain, and the United States with unique life experiences. The club has an email list of more than 150 people, actual participants and followers, in the U.S. and abroad.
The Club reads contemporary Latin American literature. The intent is to explore authors from the "McOndo" era. Occasionally we read "classics" from the magic realism and other periods. The Club has read novels, historic novels, and biographies on different topics written by a wide variety of authors from Latin America and Spain. We do not read translations with the exception of Portuguese, Brazilian, and American authors of Latin American descent.
We have enthusiastically discussed over 60 books. On three occasions, we have received guests - two authors, one from Bolivia, and most recently, one from Chile, Roberto Brodsky, with whom we had the privilege to discuss Bosque Quemado. On the third occasion, the Club met with the Chilean curator for the works of Gabriela Mistral.
Feel free to join us. Every session is a unique experience with lively discussions and exchanges. Even if you do not like what you read, you will have the opportunity to listen to differing points of view, and you will leave with a better understanding of the book.
For a history of group discussion's up through 2014, click here: http://web.archive.org/web/20150216121908/http://politics-prose.com/bookgroups/spanish-language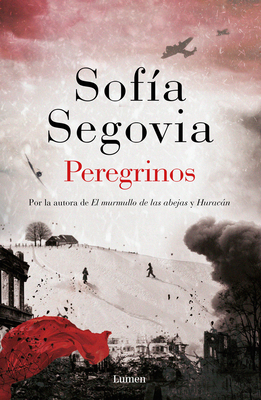 $19.95
In Stock—Click for Locations
Description
---
Tan lejos y tan cerca como el azar que, a pesar de mandarlos por caminos diversos, los había llevado al mismo lugar, al mismo tiempo.
 
Desde una patria a punto de esfumarse, dos familias de distintas regiones de Prusia, los Schipper y los Hahlbrock, huyen, junto con su pueblo, en un éxodo suscitado por los horrores de la Segunda Guerra Mundial. Prusia existía separada de Alemania aunque no de su fervor nacionalista ni de las bombas que extinguen una vida y perdonan otra.

Las vidas de Arno Schipper e Ilse Hahlbrock, dos niños que sin siquiera conocerse ni saber lo que les deparará el destino en otras tierras, van junto a los suyos en un peregrinaje sin descanso. Buscan escapar de la destrucción, del hambre y de la muerte, pero es la esperanza de paz y del reencuentro, es el deseo de hallar un lugar donde echar nuevas raíces, lo que se les arraiga en el corazón.

Inspirada en hechos reales, Peregrinos es una novela conmovedora, humana, un extraordinario reflejo de los caminos imbricados, del destino ineludible. En el hilo de la mejor literatura contemporánea, la magnífica pluma de Sofía Segovia nos regala un punto de vista singular y emocionante de uno de los conflictos más estremecedores de la historia.

Por la autora de El murmullo de las abejas y Huracán.

ENGLISH DESCRIPTION

As far and as close as chance which, despite sending them on different paths, had led them to the same place at the same time.
 
From a homeland on the verge of vanishing, two families from different regions of Prussia, the Schippers and the Hahlbrocks, flee with their villages in an exodus provoked by the horrors of World War II. Prussia existed separately from Germany but not from its nationalist fervor, nor from the bombs that extinguish one life and pardon another.

The lives of Arno Schipper and Ilse Hahlbrock, two children who, without even meeting each other or knowing what destiny lay in other lands, set out on a tireless pilgrimage. They are trying to escape destruction, hunger, and death, but it is the hope of peace and reunion, the desire to find a place to set down new roots, that takes hold in their hearts.

Inspired by real events, Pilgrims is a moving, human novel, an extraordinary reflection of interwoven paths, of inevitable destiny. Sofía Segovia's magnificent pen gives us a unique, exciting perspective into one of the most heart-rending conflicts in history.

By the author of The Humming of Bees and Hurricane.
About the Author
---
Sofía Segovia nació en Monterrey. Estudió comunicación en la Universidad de su ciudad natal. Es autora de El murmullo de las abejas (Lumen, 2015), novela con la que ha conquistado el aplauso de la crítica y el público. Vive en Monterrey con su esposo, sus hijos y sus tres mascotas. Sin el barullo alegre que logran entre todos, no podría concentrarse para escribir.