Fe En Disfraz, by Santos-Febres
Tuesday, June 18, 7:30 pm
El club de lectura en español se reúne cada tercer martes del mes a las 7:30 p.m. en Politics and Prose desde hace más de 15 años. El grupo es muy especial en su composición con representantes de los Estados Unidos, y de muchos países latinoamericanos y España, con amplia y variada formación cultural de todas partes del mundo; y una lista de distribución de email de más de 150 personas, actuales participantes y seguidores del grupo desde otros países.
El Club lee literatura latinoamericana contemporánea haciendo énfasis en leer autores que se han formado después del Boom del latinoamericano aunque en ocasiones se incluyen los "monstruos sagrados ". El Club lee novelas, biografías y novelas históricas de autores de casi todos los países latinoamericanos y que abarcan un amplio espectro. No se leen traducciones siendo las únicas excepciones los autores portugueses, brasileros o norte americanos de descendencia latinoamericana.
Hemos disfrutado y comentando más de 60 libros. En tres ocasiones hemos tenido el placer te tener invitados especiales, dos autores, uno boliviano y otro chileno, este último, Roberto Brodsky, con quien tuvimos la oportunidad de comentar Bosque Quemado que habíamos leído para es mes. El tercer invitado fue el curador de la obra de Gabriela Mistral quien estaba de visita en la ciudad y gentilmente accedió a reunirse con nosotros.
Todos están bienvenidos a participar en las charlas y comentarios e intercambio de ideas durante las reuniones de cada mes. Cada sesión es una experiencia única y cada reunión brinda la oportunidad de tener un mejor entendimiento de la obra leída y escuchar otros puntos de vista.
Spanish Language Bookgroup
The Spanish Book Club was established over five years ago and has been meeting regularly every third Tuesday of the month at 7:30 p.m. at Politics and Prose on the lower level by the coffee shop. Our group is culturally diverse with members from Latin America, Spain, and the United States with unique life experiences. The club has an email list of more than 150 people, actual participants and followers, in the U.S. and abroad.
The Club reads contemporary Latin American literature. The intent is to explore authors from the "McOndo" era. Occasionally we read "classics" from the magic realism and other periods. The Club has read novels, historic novels, and biographies on different topics written by a wide variety of authors from Latin America and Spain. We do not read translations with the exception of Portuguese, Brazilian, and American authors of Latin American descent.
We have enthusiastically discussed over 60 books. On three occasions, we have received guests - two authors, one from Bolivia, and most recently, one from Chile, Roberto Brodsky, with whom we had the privilege to discuss Bosque Quemado. On the third occasion, the Club met with the Chilean curator for the works of Gabriela Mistral.
Feel free to join us. Every session is a unique experience with lively discussions and exchanges. Even if you do not like what you read, you will have the opportunity to listen to differing points of view, and you will leave with a better understanding of the book.
For a history of group discussion's up through 2014, click here: http://web.archive.org/web/20150216121908/http://politics-prose.com/bookgroups/spanish-language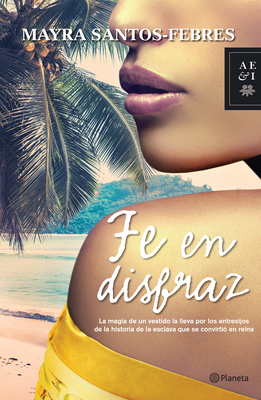 $7.95
In Stock—Click for Locations
Description
---
Una novela de amor, un testimonio de g nero, un manifiesto contra la esclavitud pero, sobre todo, la historia de la redenci n personal. Fe Verdejo, muse grafa venezolana que est realizando un estudio en Chicago, encuentra un documento de valor incalculable relativo a esclavas negras latinoamericanas del siglo XVIII. Con nimo de continuar la investigaci n, viaja a Brasil y busca el lujoso vestido que utiliz la famosa esclava Xica da Silva para integrarse en la poderosa sociedad blanca de la poca. En Xica, Fe encuentra ecos de su propia historia como mujer negra y siente una profunda fascinaci n por conocer todos los recovecos de su vida. Se ve envuelta as en un asombroso viaje al pasado para descubrir no's lo el destino de la popular brasile a, sino el de otras muchas esclavas que lucharon por su libertad a pesar de todas las adversidades. Fe en disfraz es una novela de amor, un testimonio de mujeres valientes, un manifiesto contra la esclavitud pero, sobre todo, la historia de la redenci n de Fe, que logra aceptar finalmente su condici n y el legado de sus antepasados. Mayra Santos-Febres se consolida una vez m's como la voz literaria que reivindica la diferencia racial en el Caribe y en el mundo.