ANGOSTA By Héctor Abad Faciolince NOTE: Meeting Online
Tuesday, September 21, 7:30 pm
El club de lectura en español se reúne cada tercer martes del mes a las 7:30 p.m. en Politics and Prose desde hace más de 15 años. El grupo es muy especial en su composición con representantes de los Estados Unidos, y de muchos países latinoamericanos y España, con amplia y variada formación cultural de todas partes del mundo; y una lista de distribución de email de más de 150 personas, actuales participantes y seguidores del grupo desde otros países.
El Club lee literatura latinoamericana contemporánea haciendo énfasis en leer autores que se han formado después del Boom del latinoamericano aunque en ocasiones se incluyen los "monstruos sagrados ". El Club lee novelas, biografías y novelas históricas de autores de casi todos los países latinoamericanos y que abarcan un amplio espectro. No se leen traducciones siendo las únicas excepciones los autores portugueses, brasileros o norte americanos de descendencia latinoamericana.
Hemos disfrutado y comentando más de 60 libros. En tres ocasiones hemos tenido el placer te tener invitados especiales, dos autores, uno boliviano y otro chileno, este último, Roberto Brodsky, con quien tuvimos la oportunidad de comentar Bosque Quemado que habíamos leído para es mes. El tercer invitado fue el curador de la obra de Gabriela Mistral quien estaba de visita en la ciudad y gentilmente accedió a reunirse con nosotros.
Todos están bienvenidos a participar en las charlas y comentarios e intercambio de ideas durante las reuniones de cada mes. Cada sesión es una experiencia única y cada reunión brinda la oportunidad de tener un mejor entendimiento de la obra leída y escuchar otros puntos de vista.
Spanish Language Bookgroup
The Spanish Book Club was established over five years ago and has been meeting regularly every third Tuesday of the month at 7:30 p.m. at Politics and Prose on the lower level by the coffee shop. Our group is culturally diverse with members from Latin America, Spain, and the United States with unique life experiences. The club has an email list of more than 150 people, actual participants and followers, in the U.S. and abroad.
The Club reads contemporary Latin American literature. The intent is to explore authors from the "McOndo" era. Occasionally we read "classics" from the magic realism and other periods. The Club has read novels, historic novels, and biographies on different topics written by a wide variety of authors from Latin America and Spain. We do not read translations with the exception of Portuguese, Brazilian, and American authors of Latin American descent.
We have enthusiastically discussed over 60 books. On three occasions, we have received guests - two authors, one from Bolivia, and most recently, one from Chile, Roberto Brodsky, with whom we had the privilege to discuss Bosque Quemado. On the third occasion, the Club met with the Chilean curator for the works of Gabriela Mistral.
Feel free to join us. Every session is a unique experience with lively discussions and exchanges. Even if you do not like what you read, you will have the opportunity to listen to differing points of view, and you will leave with a better understanding of the book.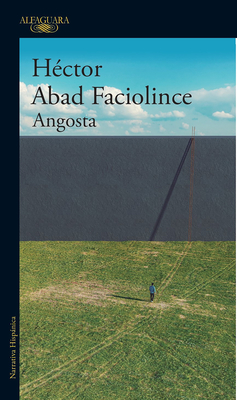 $18.95

In Stock—Click for Locations
Description
---
Una distopía estremecedora que recrea un mundo estratificado y plagado de límites y fronteras. Alfaguara reedita una obra esencial en la bibliografía de su autor.

Angosta es una ciudad estrecha, sobre poblada y dividida. Sus tres castas están determinadas por el sector y el clima que habitan: la Tierra Caliente para los tercerones, la Tierra Templada para los segundones y la Tierra Fría para los dones, que son los únicos con derecho a transitar libremente por todo el lugar. El resto de ciudadanos tienen vetado el ingreso a la parte más alta de la ciudad, y un muro con vigilancia permanente se encarga de impedir que las castas relegadas entren a Paradiso, donde los dones intentan vivir a salvo del odio de los de abajo, alimentado por el temor paranoico de los de arriba.

Jacobo Lince, propietario de una librería de viejo, vive en el hotel La Comedia, en el corazón de Tierra Templada, junto aun variado grupo de huéspedes –viudas tristísimas, intelectuales obstinados, jóvenes poetas, caseras avaras, intrépidas mujeres de tierra caliente–, y allí, mientras los amores, los miedos y los cuerpos se entre cruzan, instauran el remedo de solidaridad que es posible en medio de la miseria física y moral de una comunidad.

ENGLISH DESCRIPTION

A shocking dystopia that recreates a stratified world full of limits and borders. Alfaguara relaunches this essential work by renowned Colombian author Hector Abad Faciolince.
 
Angosta is a narrow, overcrowded, and divided city. Its three castes are determined by its region and its climate: Tierra Caliente, Hot Land, for the third class, Tierra Templada, Warm Land, for the second class, and Tierra Fría, Cold Land, for the upper class, which are the only ones with the right to move freely throughout. The rest of the citizens are banned from entering the highest part of the city, and a wall with guards and permanent surveillance is meant to prevent the lower castes from entering Paradiso, where the upper class try to live safely and far away from the hatred of those below, fed by the paranoid fear of those above.
 
Jacobo Lince, owner of an old bookstore, lives in Hotel La Comedia, in the heart of Tierra Templada together with a varied group of people - sad widows, inflexible intellectuals, young poets, greedy housekeepers, fearless women from Tierra Caliente. It is there, while love, fear, and bodies cross each other, that they try to establish some imitation of solidarity, a type of false solidarity that can be attained in a community in the midst of a physical and moral misery.
About the Author
---
Héctor Abad Faciolince nació en Medellín (Colombia), en 1958. Estudió Lenguas y Literaturas Modernas en la Universidad de Turín (Italia). Fue columnista de la revista Semana y en la actualidad escribe regularmente para El Espectador, El País y la revista Letras Libres. Es director de la Biblioteca de la Universidad Eafit.

Además de ensayos, traducciones y críticas literarias, ha publicado, entre otros, los siguientes libros: Asuntos de un hidalgo disoluto (Alfaguara, 1994), Tratado de culinaria para mujeres tristes (Alfaguara, 1997), Fragmentos de amor furtivo (Alfaguara, 1998), Angosta (2003), El olvido que seremos (2006; Alfaguara, 2017) y La Oculta (Alfaguara, 2015). Con su tercera novela, Basura (2000), obtuvo en España el I Premio Casa de América de Narrativa Innovadora. Ha publicado también un libro de poemas, Testamento involuntario (2011), y otro de narrativa, Traiciones de la memoria (2009). De sus libros hay traducciones a más de una decena de idiomas.