NIGHT SCHOOL, by Bán
Wednesday, May 22, 7:00 pm
The International Literature Book Group meets on the 4th Wednesday of each month at 7 p.m. The group is led by P&P's Jonathan Woollen (jwoollen@politics-prose.com). This group is for literature in translation as well as English-language novels coming out of foreign countries. We enjoy both unique perspectives as well as fresh approaches to novel-writing.
Interested in what we've read in the past or what we hope to read in the future? Have a suggestion? Want to chat about books? Let us know!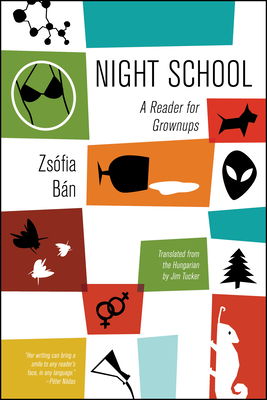 $15.95
In Stock—Click for Locations
Description
---
Zs fia Ban's Night School: A Reader for Adults uses a textbook format to build an encyclopedia of life--subject by subject, from self-help to geography to chemistry to French. With subtle irony, Ban's collection of "lectures" guides readers through the importance and uses of the power of Nohoo (or "know-how"), tells of the travels of young Flaubert to Egypt with his friend Maxime, and includes a missive from Laika the dog minutes before being blasted off into space, never to be seen again. A wildly clever book that makes our all-too-familiar world appear simultaneously foreign and untamed, and brings together lust, taboos, and the absurd in order to teach us the art of living.