DISHWASHER, by Larue
Wednesday, February 26, 7:00 pm
The International Literature Book Group meets on the 4th Wednesday of each month at 7 p.m. This group is for literature in translation as well as English-language novels coming out of foreign countries. We enjoy both unique perspectives as well as fresh approaches to novel-writing.
Interested in what we've read in the past or what we hope to read in the future? Have a suggestion? Want to chat about books? Let us know! Email: bookgroups@politics-prose.com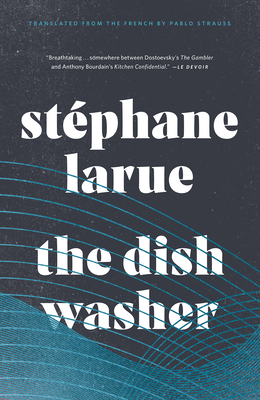 $16.95
In Stock—Click for Locations
Description
---
WINNER OF THE AMAZON CANADA FIRST NOVEL AWARD
-
NOMINATED FOR CANADA READS
-
A NEW YORK TIMES NEW & NOTEWORTHY BOOK
-
A NOW MAGAZINE BEST BOOK TO READ FOR SUMMER 2019
-
As heard on CBC's The Sunday Edition with Michael Enright
It's October in Montreal, 2002, and winter is coming on fast. Past due on his first freelance gig and ensnared in lies to his family and friends, a graphic design student with a gambling addiction goes after the first job that promises a paycheck: dishwasher at the sophisticated La Trattoria. Though he feels out of place in the posh dining room, warned by the manager not to enter through the front and coolly assessed by the waitstaff in their tailored shirts, nothing could have prepared him for the tension and noise of the kitchen, or the dishpit's clamor and steam. Thrust on his first night into a roiling cast of characters all moving with the whirlwind speed of the evening rush, it's not long before he finds himself in over his head once again. A vivid, magnificent debut, with a soundtrack by Iron Maiden, The Dishwasher plunges us into a world in which everyone depends on each other--for better and for worse.