DINNER GUEST, by Ybarra
Wednesday, September 18, 7:00 pm
The International Literature Book Group meets on the 4th Wednesday of each month at 7 p.m. The group is led by P&P's Jonathan Woollen (jwoollen@politics-prose.com). This group is for literature in translation as well as English-language novels coming out of foreign countries. We enjoy both unique perspectives as well as fresh approaches to novel-writing.
Interested in what we've read in the past or what we hope to read in the future? Have a suggestion? Want to chat about books? Let us know!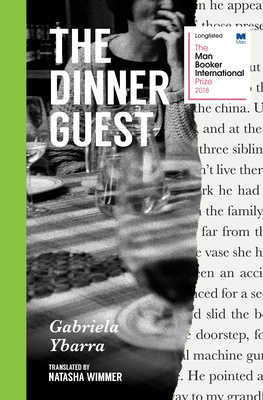 $15.95
In Stock—Click for Locations
Description
---
Longlisted for the 2018 Man Booker International Prize
"A seamless blend of art, politics, and private life."--NPR
The Dinner Guest is Gabriela Ybarra's prizewinning literary debut: a singular autobiographical novel piecing together the kidnap and murder of her grandfather by terrorists, reflecting on the personal impact of private pain and public tragedy.
The story goes that in my family there's an extra dinner guest at every meal. He's invisible, but always there. He has a plate, glass, knife and fork. Every so often he appears, casts his shadow over the table, and erases one of those present.
The first to vanish was my grandfather.
In 1977, three terrorists broke into Gabriela Ybarra's grandfather's home, and pointed a gun at him in the shower. This was the last time his family saw him alive, and his kidnapping played out in the press, culminating in his murder.Ybarra first heard the story when she was eight, but it was only after her mother's death, years later, that she felt the need to go deeper and discover more about her family's past.
The Dinner Guest is a novel with the feel of documentary non-fiction. It connects two life-changing events--the very public death of Ybarra's grandfather, and the more private pain as her mother dies from cancer and Gabriela cares for her. Devastating and luminous, the book is an investigation, marking the arrival of a talented new voice in international fiction.