THESE SAVAGE SHORES, by Ram V Note: will meet on fourth Sunday
Sunday, January 26, 5:00 pm
The Graphic Novel Book Group is led by P&P's Adam Wescott awescott@politics-prose.com and starting in March will now meet on the third Sunday of every month at 5:00 p.m. in the Den Coffeehouse at the Connecticut Avenue NW location.
Join us on the third Sunday of each month to talk about some cool comics. Graphic memoirs, trippy Euro comics, indie mags, manga, and the occasional superhero are all up for consideration. We strive for inclusivity of topic and authorship. Whether totally new to comics, a hardcore fan or anything in between, we hope you'll care to join us! --Adam Wescott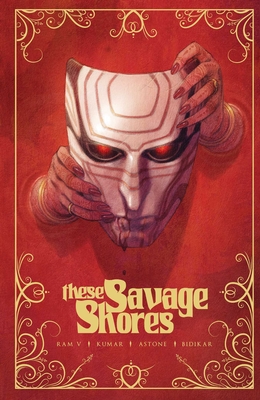 $16.99
In Stock—Click for Locations
Description
---
Two centuries after the first European ship sailed to the Malabar Coast and made landfall at Calicut, the East India Company seeks to secure its future along the lucrative Silk Route, in the year 1766. An old evil now sails aboard a company ship, hoping to make a home in this new found land. But he will soon find that the ground along the Indus is an ancient one with daemons and legends far older than himself. Along These Savage Shores, where the days are scorched and the nights are full of teeth.