MECH CADET YU, by Pak et al
Monday, October 21, 5:00 pm
The Graphic Novel Book Group is led by P&P's Adam Wescott awescott@politics-prose.com and starting in March will now meet on the third Sunday of every month at 5:00 p.m. in the Den Coffeehouse at the Connecticut Avenue NW location.
Join us on the third Monday of each month to talk about some cool comics. Graphic memoirs, trippy Euro comics, indie mags, manga, and the occasional superhero are all up for consideration. We strive for inclusivity of topic and authorship. Whether totally new to comics, a hardcore fan or anything in between, we hope you'll care to join us! --Adam Wescott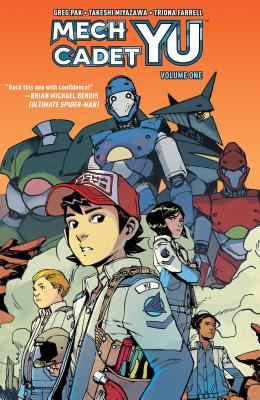 $14.99
In Stock—Click for Locations
Description
---
A young boy gets the opportunity of a lifetime when he bonds with a giant sentient robot and joins the ranks of the illustrious Sky Corps Academy to protect the world from alien threats.

Every year, giant sentient robots from outer space come to Earth and bond forever with a brand new crop of cadets at Sky Corps Academy to help keep the planet safe. But this year, instead of making a connection with a cadet, one of the mechs bonds with Stanford, a young kid working with his Mom as a janitor at Sky Corps. Stanford has the opportunity of a lifetime but he'll first have to earn the trust of his classmates if he's to defend the planet from the monstrous Sharg.

From bestselling author Greg Pak (The Hulk, Superman) and fan favorite artist Takeshi Miyazawa (Runaways, Ms. Marvel), Mech Cadet Yu is a heartfelt underdog story set in a bright and bold sci fi world, uncovering the true makings of heroism and friendship in the face of overwhelming odds. This collection includes an exclusive behind-the-scenes look at the making of Mech Cadet Yu, including the comic short story that inspired the series.