UNNATURAL WORLD, by Biello
Wednesday, January 2, 7:30 pm
The Futurist Book Group is led by Sam Lubell and Eamon Bobowski and meets the 1st Wednesday of each month at 7:30 p.m. at Politics and Prose, in the Den coffeehouse.
The Futurist Book Group was started by the Washington chapter of the World Future Society, but now operates independently of that organization. It has met at Politics and Prose on the first Wednesday of every month except August since 2004. About 10 of our 50+ members attend nearly every meeting; and several people who don't attend also read our selections. We hold lively, wide-ranging discussions of non-fiction books which are focused on the future.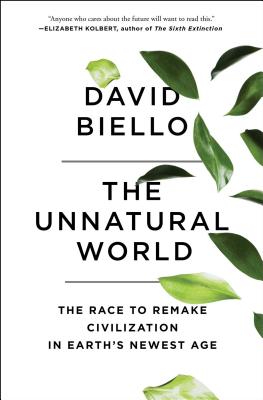 $17.00
In Stock—Click for Locations
Description
---
A brilliant young environmental journalist argues that we must innovate and adapt to save planet Earth in this enlightening "trip around the world to meet people working out new ways for humanity to live as well as survive" (The New York Times Book Review).

With the historical perspective of The Song of the Dodo and the urgency of Al Gore's An Inconvenient Truth, The Unnatural World chronicles a disparate band of unlikely heroes: an effervescent mad scientist who would fertilize the seas; a pigeon obsessive bent on bringing back the extinct; a low-level government functionary in China doing his best to clean up his city, and more. These scientists, billionaires, and ordinary people are all working toward saving the best home humanity is ever likely to have.

What is the threat? It is us. In a time when a species dies out every ten minutes, when summers are getting hotter, winters colder, and oceans higher, some people still deny mankind's effect on the Earth. But all of our impacts on the planet have ushered in what qualifies as a new geologic epoch, thanks to global warming, mass extinction, and such technologies as nuclear weapons and plastics.

"A futurist ray of hope amid the usual denial and despair" (Esquire), The Unnatural World examines the world we have created and analyzes the glimmers of light emerging from the efforts of incredible individuals seeking to change our future. Instead of a world without us, this history of the future shows how to become good gardeners, helping people thrive along with an abundance of plants, animals, all the exuberant profusion of life on Earth—a better world with us. The current era of humans need not be the end of the world—and "Biello describes both what we have done to alter our planet and what we should do in the future to ensure its habitability" (Scientific American).
About the Author
---
David Biello is an award-winning journalist who has been reporting on the environment and energy since 1999. He is currently an editor at Scientific American, where he has been a contributor since 2005, and he also contributes frequently to the Los Angeles Review of Books, Yale e360, Nautilus, and Aeon. Biello has been a guest on radio shows, such as WNYC's The Takeaway, NHPR's Word of Mouth, and PRI's The World. He hosts the ongoing duPont-Columbia award-winning documentary Beyond the Light Switch for PBS. The Unnatural World is his first book.
Praise For…
---
"Fascinating and wide-ranging, The Unnatural World offers an unflinching look at a planet increasingly under human control. Anyone who cares about the future will want to read it."
—Elizabeth Kolbert, Pulitzer Prize-winning author of The Sixth Extinction: An Unnatural History

"An urgent, elegantly-told story of the Earth that humankind has made and, with effort, might yet save."
—Alan Burdick, author of Out of Eden

"Funny, thoughtful, often lyrical, The Unnatural World guides us through the frontiers of environmental innovation, from ecological survey drones to de-extinction, to Mars and back. These are stories of a humanity that is struggling to grow up, take responsibility for the planet that we have made, and be a force for good."
—Emma Marris, author of The Rambunctious Garden

"This is the book for our moment, laying out humanity's situation in the Anthropocene very clearly, and all of it infused with Biello's good judgment and his eye for entertaining stories. Reading it is a pleasure as well as an orientation and a guide to action."
—Kim Stanley Robinson, author of Aurora, The Years of Rice and Salt, and 2312

"As David Biello shows with real power, we clearly live in a world where humans affect all that we once called 'natural.' He argues this means we need to assume the role of global managers; though I don't completely agree, I think his insights and examples are a necessary part of a vital debate."
—Bill McKibben, author Eaarth: Making a Life on a Tough New Planet

"David Biello takes us on a wild ride—from South African political rallies to remote Chinese villages to a New York City party for Elon Musk—in his quest to understand this strange new era of the Anthropocene. The Unnatural World is a sensitive, disturbing, and, ultimately, hopeful view of humanity's relentless drive to reshape nature—and the implications for all life on our troubled planet."
—Andrew Lawler, author of Why Did the Chicken Cross the World?

"Biello's absorbing work presents a hopeful alternative to the widespread media forecasts of planetary gloom and doom."
—Booklist

"Biello's stance and sympathies are quite clear, but he thankfully avoids polemics. His approach is unusually balanced; he is keen to show that every coin has a second face, not least the face of hope vs. despair....In this well-written, significant book, Biello insists that humans, the world's most successful invasive species, have the ability to engage in planetary protection and human survival, but it will require wisdom, innovation, and restraint. "
—Kirkus Reviews (starred review)

"A futurist ray of hope amid the usual denial and despair."
—Esquire

"Biello…makes an impassioned case for the proposed [Anthropocene] and describers both what we have done to alter our planet and what we should do in the future to ensure its habitability."
—Scientific American

"A thoughtful analysis of how we might move toward a sustainable civilization…Recommended for readers who enjoyed Elizabeth Kolbert's Field Notes from a Catastrophe and for anyone who follows the latest developments in climate geoengineering."
—Library Journal

"Leans toward the notion that the solution to our environmental challenges will come from technology, and in that sense it is most welcome."
—The Wall Street Journal

"Biello's case is worth hearing out."
—Outside

"A travelogue with that good human epoch [The Anthropocene] in mind, a trip around the world to meet people working out new ways for humanity to live as well as survive."
—The New York Times Book Review

"A rigorous and readable investigation of human impacts…Highly significant…an unqualified success."
—Charleston Post and Courier