SPACE BARONS, by Davenport
Wednesday, August 7, 7:30 pm
The Futurist Book Group is led by Sam Lubell and Eamon Bobowski and meets the 1st Wednesday of each month at 7:30 p.m. at Politics and Prose, in the Den coffeehouse.
The Futurist Book Group was started by the Washington chapter of the World Future Society, but now operates independently of that organization. It has met at Politics and Prose on the first Wednesday of every month except August since 2004. About 10 of our 50+ members attend nearly every meeting; and several people who don't attend also read our selections. We hold lively, wide-ranging discussions of non-fiction books which are focused on the future.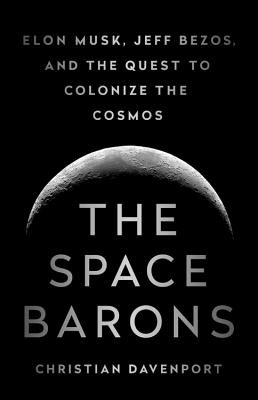 $17.99
In Stock—Click for Locations
Description
---
The historic quest to rekindle the human exploration and colonization of space led by two rivals and their vast fortunes, egos, and visions of space as the next entrepreneurial frontier


The Space Barons is the story of a group of billionaire entrepreneurs who are pouring their fortunes into the epic resurrection of the American space program. Nearly a half-century after Neil Armstrong walked on the moon, these Space Barons-most notably Elon Musk and Jeff Bezos, along with Richard Branson and Paul Allen-are using Silicon Valley-style innovation to dramatically lower the cost of space travel, and send humans even further than NASA has gone. These entrepreneurs have founded some of the biggest brands in the world-Amazon, Microsoft, Virgin, Tesla, PayPal-and upended industry after industry. Now they are pursuing the biggest disruption of all: space.

Based on years of reporting and exclusive interviews with all four billionaires, this authoritative account is a dramatic tale of risk and high adventure, the birth of a new Space Age, fueled by some of the world's richest men as they struggle to end governments' monopoly on the cosmos. The Space Barons is also a story of rivalry-hard-charging startups warring with established contractors, and the personal clashes of the leaders of this new space movement, particularly Musk and Bezos, as they aim for the moon and Mars and beyond.


About the Author
---
Christian Davenport is a staff writer at theWashington Post covering the space and defense industries for the financial desk. He joined the Post in 2000, and has written about the DC-area sniper shootings, the Abu Ghraib prison scandal, and the burial problems at Arlington National Cemetery. He is a recipient of the Peabody award for his work on veterans with Traumatic Brain Injury and has been on reporting teams that were finalists for the Pulitzer Prize three times.

Before joining the financial staff, Davenport was an editor on the Metro desk, overseeing coverage of local government and politics. He has also worked at Newsday, Philadelphia Inquirer, and Austin American-Statesman. As a frequent radio and television commentator, he has appeared on MSNBC, CNN, PBS NewsHour, and several NPR shows, including All Things Considered and Diane Rehm.
Praise For…
---
"The Space Barons by Christian Davenport, a Washington Post reporter, is an exciting narrative filled with colorful reporting and sharp insights. The book sparkles because of Davenport's access to the main players and his talent for crisp storytelling."—Walter Isaacson, New York Times Book Review

"The Space Barons is a pacy, smartly reported book on the new generation of entrepreneurs who are transforming the business of space... [The] book fizzes with some wonderful human stories of imagination and endeavor but also provides a broad sweep of the current state of the space industry."—Financial Times

"In The Space Barons: Elon Musk, Jeff Bezos, and the Quest to Colonize the Cosmos, Christian Davenport tells the backstories of the billionaires who are vying for control of the emerging NewSpace industry."—The New Yorker

"Davenport displays his reporting and storytelling skills. His writing is tight and, suitably for the subject matter, propulsive. He fleshes out the main protagonists with fine character vignettes."—The Washington Post

"Highly accessible... Davenport's access to key players, from the companies' founders to its employees, lends authority to his account."—Scientific Inquirer

"Important and revealing"—The Weekly Standard

"The Space Barons is fastidious and engrossing"—The Spectator

"Entertaining, skillfully narrated book"—The Week

"Christian Davenport has written a terrific book on the new space entrepreneurs."—Newt Gingrich

"Topping my reading list for space fans this summer is The Space Barons: Elon Musk, Jeff Bezos, and the Quest to Colonize the Cosmos, Christian Davenport's fine new book on competition in the New Space world."—Forbes.com

"In The Space Barons, Davenport lays out a compelling narrative of how Musk (SpaceX, Tesla), Jeff Bezos (Blue Origin, Amazon), Richard Branson (Virgin) and Paul Allen (Microsoft) all dreamed at an early age of the prospects of commercial space travel...Through compelling storytelling... [and] impressive research and extensive interviews."—Winnipeg Free Press

"In prose more than worthy of a staff writer at the Washington Post, Davenport glides effortlessly between biographical vignettes, engineering and financial challenges in building spacecraft, government obstacles to private space exploration, project failures and triumphs, and rivalry as 'the best rocket fuel.'"—Seeking Alpha

"Strap in, you dreamers of space travel, you lovers of invention, you admirers of the unquenchable thirst for exploration, for here is a book that will thrill you to your core... It's a wonderful story, a thrilling adventure of literal and metaphoric highs and lows, based on interviews with the billionaires but encompassing a much broader range of reporting... A big story, told through its vividly evoked small details."—Booklist

"Readers will thrill at this lucid, detailed, and admiring account of wealthy space buffs who are spending their own money, making headlines, producing genuine technical advances, and resurrecting the yearning to explore the cosmos."—Kirkus, Starred Review

"Starting with a blank canvas, Christian Davenport has painted a comprehensive portrait of some of the most influential leaders in commercial space, and indeed of the industry itself. Well-researched and entertaining, The Space Barons gives both a rich texture to the beginnings and a tantalizing outline of the future of commercial human space travel."—Michael Lopez-Alegria, former NASA astronaut, past president of the Commercial Space Flight Federation, and principal, MLA Space, LLC

"A must-read. A compelling account of how today's self-made tycoons are driven to change our world and our relationship with outer space. This is distinctly an American story, nowhere but America could these Space Barons rise, thrive, and succeed. Follow their journey into the future."—Dr. Mark Albrecht, executive secretary of the National Space Council under President George H. W. Bush and author of Falling Back to Earth: A First Hand Account of the Great Space Race and the End of the Cold War

"Unlike the space race of the 1950s and 1960s, the new space race is not a competition between superpowers-it is a competition among billionaires with egos and ambitions that match their fortunes. The Space Barons provides a superb behind-the-scenes look that chronicles the new space race from its beginning some two decades ago to the headlines of today. This book is a must-read for everyone who fell in love with space as a kid and still longs to reach for the heavens."—Todd Harrison, Center for Strategic and International Studies