A SERIES OF FORTUNATE EVENTS by Carroll: Meeting Online
Wednesday, May 5, 7:30 pm
The Futurist Book Group is led by Sam Lubell and Eamon Bobowski and meets the 1st Wednesday of each month at 7:30 p.m. Please note: book group is meeting online. Please contact: Sam Lubell samlubell@verizon.net for online access information.
The Futurist Book Group was started by the Washington chapter of the World Future Society, but now operates independently of that organization. It has met at Politics and Prose on the first Wednesday of every month except August since 2004. About 10 of our 50+ members attend nearly every meeting; and several people who don't attend also read our selections. We hold lively, wide-ranging discussions of non-fiction books which are focused on the future.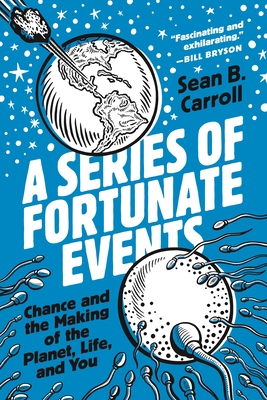 $22.95
In Stock—Click for Locations
Description
---
Fascinating and exhilarating--Sean B. Carroll at his very best.--Bill Bryson, author of The Body: A Guide for Occupants
From acclaimed writer and biologist Sean B. Carroll, a rollicking, awe-inspiring story of the surprising power of chance in our lives and the world Why is the world the way it is? How did we get here? Does everything happen for a reason or are some things left to chance? Philosophers and theologians have pondered these questions for millennia, but startling scientific discoveries over the past half century are revealing that we live in a world driven by chance.
A Series of Fortunate Events
tells the story of the awesome power of chance and how it is the surprising source of all the beauty and diversity in the living world. Like every other species, we humans are here by accident. But it is shocking just how many things--any of which might never have occurred--had to happen in certain ways for any of us to exist. From an extremely improbable asteroid impact, to the wild gyrations of the Ice Age, to invisible accidents in our parents' gonads, we are all here through an astonishing series of fortunate events. And chance continues to reign every day over the razor-thin line between our life and death. This is a relatively small book about a really big idea. It is also a spirited tale. Drawing inspiration from Monty Python, Kurt Vonnegut, and other great thinkers, and crafted by one of today's most accomplished science storytellers,
A Series of Fortunate Events
is an irresistibly entertaining and thought-provoking account of one of the most important but least appreciated facts of life.
About the Author
---
Sean B. Carroll is an award-winning scientist, writer, educator, and film producer. He is Vice President for Science Education at the Howard Hughes Medical Institute and the Balo-Simon Chair of Biology at the University of Maryland. His books include The Serengeti Rules (Princeton), Brave Genius, and Remarkable Creatures, which was a finalist for the National Book Award. He lives in Chevy Chase, Maryland. Twitter @SeanBiolCarroll