MERITOCRACY TRAP, by Markovits NOTE: Meeting Online
Wednesday, September 2, 7:30 pm
The Futurist Book Group is led by Sam Lubell and Eamon Bobowski and meets the 1st Wednesday of each month at 7:30 p.m. at Politics and Prose, in the Den coffeehouse. Please note: book group is meeting online. Please contact: Sam Lubell samlubell@verizon.net for online access information.
The Futurist Book Group was started by the Washington chapter of the World Future Society, but now operates independently of that organization. It has met at Politics and Prose on the first Wednesday of every month except August since 2004. About 10 of our 50+ members attend nearly every meeting; and several people who don't attend also read our selections. We hold lively, wide-ranging discussions of non-fiction books which are focused on the future.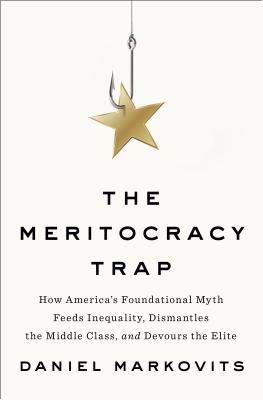 $30.00
In Stock—Click for Locations
Description
---
A revolutionary new argument from eminent Yale Law professor Daniel Markovits attacking the false promise of meritocracy 

It is an axiom of American life that advantage should be earned through ability and effort. Even as the country divides itself at every turn, the meritocratic ideal – that social and economic rewards should follow achievement rather than breeding – reigns supreme.  Both Democrats and Republicans insistently repeat meritocratic notions. Meritocracy cuts to the heart of who we are. It sustains the American dream.
 
But what if, both up and down the social ladder, meritocracy is a sham? Today, meritocracy has become exactly what it was conceived to resist: a mechanism for the concentration and dynastic transmission of wealth and privilege across generations. Upward mobility has become a fantasy, and the embattled middle classes are now more likely to sink into the working poor than to rise into the professional elite. At the same time, meritocracy now ensnares even those who manage to claw their way to the top, requiring rich adults to work with crushing intensity, exploiting their expensive educations in order to extract a return. All this is not the result of deviations or retreats from meritocracy but rather stems directly from meritocracy's successes.
 
This is the radical argument that Daniel Markovits prosecutes with rare force. Markovits is well placed to expose the sham of meritocracy. Having spent his life at elite universities, he knows from the inside the corrosive system we are trapped within. Markovits also knows that, if we understand that meritocratic inequality produces near-universal harm, we can cure it. When The Meritocracy Trap reveals the inner workings of the meritocratic machine, it also illuminates the first steps outward, towards a new world that might once again afford dignity and prosperity to the American people.
About the Author
---
Daniel Markovits is Guido Calabresi Professor of Law at Yale Law School and founding director of the Center for the Study of Private Law.
Praise For…
---
"Ambitious and disturbing. . . Markovits forcefully interrupts the comfortable bath of self-flattery in which our well-graduated professionals pass their hours." – New York Times Book Review

"An imaginative new book that will prompt endless debate in the faculty lounge, the country-club tap room, and the family dinner table. . . a book that will jolt and provoke the reading public . . . Markovits produces shocking figures about the yawning wealth gap on leafy campuses." — The Boston Globe

"The Meritocracy Trap defines a central issue of our age: the rise of new elites who, unlike their aristocratic forebears, seem to have the moral high ground. The system is rigged in a different way, but it's still rigged all right." – Sunday Times

"We've been waiting for the Big Book that explains America's wrong turn. Daniel Markovits has supplied it. The Meritocracy Trap is a sociological masterpiece – a damning indictment of parenting and schools,  an unflattering portrait of a ruling class and the economy it invented. Far too many readers will recognize themselves in his brilliant critique, and they will feel a rush of anger, a pang of regret, and a burning desire to remake the system." —Franklin Foer, author of World Without Mind
 
"Provocatively weighing in on growing inequality, Daniel Markovits weaves a disturbing tale of merit and social division. Pulling no punches, he warns us that meritocracy is a  trap, fetishizing certain skills and endless assessments. Markovitz shows – in exquisite detail – the perverse link between an upper class education and elite jobs and how together they enrich the few, while devaluing and demoralizing the rest." —Jerry Brown, former governor of California
 
"At once wide-ranging and rigorous, subtle and penetrating, Markovits's book is revelatory both in its particulars and in its big picture. Anyone who wants to argue about the merits of meritocracy must take account of this book." —Kwame Anthony Appiah, Professor of Philosophy and Law, NYU and author of The Lies That Bind: Rethinking Identity
 
"Daniel Markovits has written a bold, brave critique of the meritocracy-backed version of inequality that prevails today. He argues persuasively that meritocracy is destructive and demoralizing for winners and losers alike. Challenging conventional wisdom, Markovits shows that technological change is not a fact of nature that happens to increase the value of highly credentialed workers; instead, the prevalence of credentialed elites calls forth technologies that bias the labor market in their favor and hollow out the middle class. This is a splendid book that should prompt soul-searching among meritocrats." —Michael J. Sandel, author of What Money Can't Buy: The Moral Limits of Markets

"The system is rigged. And the culprit, Daniel Markovits argues, is meritocracy—the same ideal that was supposed to promote fairness. Brilliant, lucid, and urgent, The Meritocracy Trap exposes a national catastrophe." —James Forman Jr., Pulitzer Prize-winning author of Locking Up Our Own