LIGHT OF THE STARS, by Frank NOTE: Meeting Online
Wednesday, August 5, 7:30 pm
The Futurist Book Group is led by Sam Lubell and Eamon Bobowski and meets the 1st Wednesday of each month at 7:30 p.m. at Politics and Prose, in the Den coffeehouse. Please note: book group is meeting online. Please contact: Sam Lubell samlubell@verizon.net for online access information.
The Futurist Book Group was started by the Washington chapter of the World Future Society, but now operates independently of that organization. It has met at Politics and Prose on the first Wednesday of every month except August since 2004. About 10 of our 50+ members attend nearly every meeting; and several people who don't attend also read our selections. We hold lively, wide-ranging discussions of non-fiction books which are focused on the future.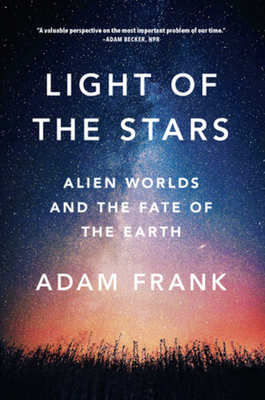 $16.95
In Stock—Click for Locations
Description
---
Winner of the 2019 Phi Beta Kappa Award for Science



"A valuable perspective on the most important problem of our time." —Adam Becker, NPR
Light of the Stars tells the story of humanity's coming of age as we realize we might not be alone in this universe. Astrophysicist Adam Frank traces the question of alien life from the ancient Greeks to modern thinkers, and he demonstrates that recognizing the possibility of its existence might be the key to save us from climate change. With clarity and conviction, Light of the Stars asks the consequential question: What can the likely presence of life on other planets tell us about our own fate?
About the Author
---
Adam Frank is a professor of astrophysics at the University of Rochester. He is a co-founder of NPR's 13.7: Cosmos and Culture blog and an on-air commentator for All Things Considered. He also served as the science consultant for Marvel Studio's Dr. Strange. He lives in Rochester, New York.
Praise For…
---
[An] engaging and accessible book.… Frank enlivens the text with his passion, opinions and even some of his own projections of our possible fates.
— Alan Lightman

Light of the Stars provides a marvelous perspective on how astronomy could make us all better Earthlings.

— Lee Billings

Adam Frank relies on elegant prose and conversational writing to make modern science comprehensible and illuminating for the nonspecialist.… [A] profoundly important book.

This enthralling book by a leading astrophysicist places our human drama in its proper cosmic context, showing why civilizations must use their technology to safeguard rather than sabotage their planet's climate.
— Max Tegmark, best-selling author of Life 3.0