SPAIN IN OUR HEARTS, by Hochschild NOTE: Meeting Online
Tuesday, February 23, 7:00 pm
The Fascinating History Book Group is led by P&P's Shane Cagney (scagney@politics-prose.com) and meets the fourth Thursday of each month at 7 p.m.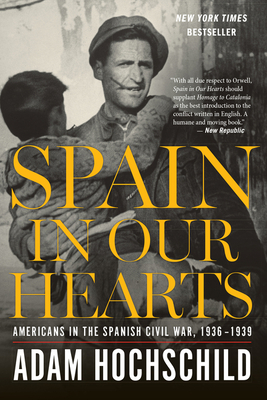 $16.99
In Stock—Click for Locations
Description
---
A New York Times Bestseller


"With all due respect to Orwell, Spain in Our Hearts should supplant Homage to Catalonia as the best introduction to the conflict written in English. A humane and moving book." — ew Republic

"Excellent and involving . . . What makes [Hochschild's] book so intimate and moving is its human scale." —Dwight Garner, New York Times

For three years in the 1930s, the world watched, riveted, as the Spanish Civil War became the battleground in a fight between freedom and fascism that would soon take on global proportions. Confronting a right-wing coup led by Francisco Franco and heavily aided by Hitler and Mussolini, volunteers flooded in to support Spain's democratic government. Among them were nearly three thousand Americans, called by their convictions to lend a hand in a brutal conflict their government wanted no part of. In Spain in Our Hearts, Adam Hochschild weaves together the stories of some dozen foreigners to reveal the full tragedy and importance of the war. Among them are a fiery nineteen-year-old Kentucky woman on her honeymoon whose experience in revolutionary Barcelona became the high point of her life, a pair of rivalrous New York Times reporters who covered the fighting from opposite sides, and a widely admired American couple on the war's front lines whose inspiring, heartbreaking love story threads through this account. We still have many lessons to learn from this chapter in history, and Spain in Our Hearts is Adam Hochschild at his very best.

"An unusually well-written narrative, full of telling detail and vignettes that capture great human drama." — Wall Street Journal

"After reading Hochschild's book, it's impossible to feel anything but admiration — and awe." — San Francisco Chronicle
About the Author
---
ADAM HOCHSCHILD is the author of ten books. King Leopold's Ghost was a finalist for the National Book Critics Circle Award, as was To End All Wars. His Bury the Chains was a finalist for the National Book Award and won the Los Angeles Times Book Prize and PEN USA Literary Award. He lives in Berkeley, California.
Praise For…
---
A
New York Times
Bestseller
"Excellent and involving . . . What makes [Hochschild's] book so intimate and moving is its human scale."
—Dwight Garner,
New York Times
"With all due respect to Orwell,
Spain in Our Hearts
should supplant
Homage to Catalonia
as the best introduction to the conflict written in English. A humane and moving book, it is well-paced and meant to be read rather than studied."
—
New Republic
"Admirable . . . an unusually well-written narrative, full of telling detail and vignettes that capture great human drama."
—
Wall Street Journal
"A commanding performance. Digging through archives, Hochschild finds characters whose lives . . . pull the war into tight, human-scale focus . . . After reading Hochschild's book, it's impossible to feel anything but admiration—and awe."
—
San Francisco Chronicle
"The tragic story of the Americans in the doomed Lincoln Brigade . . . comes vividly to life in Adam Hochschild's compelling
Spain in Our Hearts
, a long-overdue book that explores this long-overlooked conflict."
—Los Angeles Times
"By assembling a well-chosen set of individual narratives, many about figures who are relatively unknown, [Hochschild] captures why so many people thought the fate of the world might be decided by who won the conflict ... Consistently vivid . . . Captivating."
—New York Times Book Review

"A vivid and level-headed new history of American participation in the Spanish Civil War."
 —The New Yorker

"Excellent . . . Hochschild captures both the passionate, partisan views of particular combatants and the larger political currents that shaped their experiences. It's a moving and useful investigation into the dangers and promises of idealism."
—Christian Science Monitor

"Exemplary . . . Moving and powerful."
—Seattle Times

"The book's narrative is driven by Hochschild's deft handling of the personal stories, some heartbreaking, of a half dozen Americans . . . highly engaging . . .  A book like Hochschild's keeps their stories and spirit alive."
—St. Louis Post-Dispatch

"A sweeping, suspenseful, and somber chronicle of the Spanish Civil War . . . Makes superb use of diaries and letters."
—Minneapolis Star-Tribune

"Hochschild tells the story of this heady time with moving, well-paced prose exploring both international policy and intensely personal experiences … Exceptional."
—Los Angeles Review of Books

"A fine new chronicle of Americans … determined to do their part to fight fascism. One's heart breaks to read what awaited them."
—Dallas Morning News

"Brings history alive . . . Hochschild is a writer capable of making any topic interesting, relevant, and accessible . . . Spain in Our Hearts is a primer, a meditation, and a story of American adventure abroad."
—Tampa Bay Times

"Well-paced . . . Closes on a poignant note of mourning and remembrance."
—Boston Globe

"Hochschild is an exceptional writer; his narrative is well-paced, delivered in clear prose, and focused on important and colorful details of the historical moment."
—Publishers Weekly, starred review

"A dramatically personal book . . . A vivid addition to twentieth-century European history collections."
—Booklist, starred review

"A nuanced look at the messy international allegiances forged during the Spanish Civil War . . . Hochschild ably explores subtle shades of the conflict that contemporary authors and participants did not want to consider."
—Kirkus Reviews

"George Orwell once explained that going to Spain, in 1936, 'seemed the only conceivable thing to do.' As soon as he got there, the right thing to do got a lot less clear. And how to write about it was immediately difficult, too. The twenty-eight hundred Americans who fought in the Spanish Civil War felt the same way, as Adam Hochschild recounts in this rich and fascinating book. Few writers grapple so powerfully with the painful moral and ethical choices of past actors as does Hochschild, who brings to Spain in Our Hearts his exceptional talents — and his moral seriousness — as a reporter, as a historian, and as a writer."
—Jill Lepore, author of The Secret History of Wonder Woman 
"In this beautifully written portrait of Americans caught up in the Spanish Civil War, Adam Hochschild brings to brilliant life the heroism and horror of that fratricidal conflict. His account of the David-and-Goliath fight between the ragtag army of idealistic, pro-democracy  volunteers and the mechanized, murderous forces of Franco, Hitler, and Mussolini is one of the most powerful narratives I have ever read."
—Lynne Olson, author of Citizens of London

"Spain in Our Hearts is narrative non-fiction at its very best. Hochschild's achievement is to make this trial-by-combat story come alive, as if it were happening now. It is impossible for a reader not to identify and feel compassion for those sons and daughters of America who risked and often gave their lives for a cause that could not ultimately prevail against the darker forces of Franco, Hitler, Mussolini, Stalin—and Texaco. A seamlessly-woven, unputdownable tapestry of war in Europe; intensely, unforgettably moving."
—Nigel Hamilton, author of The Mantle of Command 

"Beautifully written with a hawk-eye for the telling anecdote, Spain in Our Hearts constitutes an endlessly fascinating and utterly unputdownable survey of the war to defend democracy in Spain that was not only the first act of the Second World War but also, for many across the world, the last great cause."
—Paul Preston, author of The Spanish Civil War: Reaction, Revolution, and Revenge